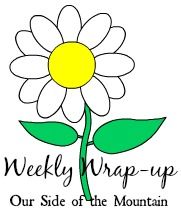 EVERYDAY LIFE
Oh, my days are full and busy!
To stay productive, I have started to keep a "bullet journal" inside my Dollar Tree calendar.
Have you heard of "bullet journaling"?
It's a quick way to organize your day and keep track of events and ideas without any fancy planners. I've modified the method to meet my needs, but it's certainly keeping me on track. The kids can also see what needs doing for their chores as I include those too.
There's something satisfying about having completed and checked off boxes at the end of the day!
Sometimes I do wish I could find one of those simple graph notebooks shown in the video...
I started knitting again. I stopped in late winter as the days were warmer and there was gardening to start and spring cleaning to do and outside stuff to enjoy. Then my hands and wrists developed tendonitis (or possibly arthritis) over the summer. But I find it relaxing so it's nice to start another project, even a simple, quick one as a dishcloth. (
Here
is the pattern I'm using.)
What will I do with all these dishclothes?
MENU
• Turkey Kielbasa, Rice Pilaf & Broccoli •
Pioneer Woman Ranch Chicken Sandwiches
& Homemade Applesauce • Spaghetti and Meat Sauce & Green Beans • Cheeseburger Mac, Peas & Homemade Applesauce • BBQ Chicken Drumsticks, Baked Fries & Cucumber Slices •
HOMESCHOOL HAPPENINGS
I didn't intend for next week to be a vacation week, but sometimes it's fun to "go with the flow".
Flexibility is definitely a homeschool positive!
The kids MAY back to the island with Grandpa and Nannie Lobster for some
spoiling
extra time together on Monday. If they go, I'm going to clean the house, and enjoy it staying that way for more than an hour! (
I'm sure you know what I mean.
)
It was a typical week around here. Cati gets up earlier than Sam and I and does a lot of her work in the quiet early hours, oftentimes listening to music on her phone. She's always been an early bird! Sam rolls out of bed around 10am, with some prompting, and starts his day. He's big on breakfast! This staggered schedule works for us.
Cati
Studied Irregular Plural Nouns, Verbs and Prepositions, Kept a Daily Journal, Corrected Misspelled Words & Reviewed Paragraph Structure & Reviewed the Paragraph
Solved Least Common Multiples, Averages, Multiple Fractional Factors & Unit Multipliers Problems
Studied Plate Tectonics
Learned About Indus Valley and Yellow River Valley, Harappan Civilization, Shang Dynasty, Ancient Mohenjo-Daro, Lei Zu and Silkworms
Phys. Ed. - Walking
Sam
Read Poetry, Wrote a Shape Poem, Studied -ee and - ite Spelling Words, Practiced Reading Comprehension, Learned Question Words & Studied Vocab Words
Solved Some and Some More, Subtracting Without Regrouping, Missing 2-Digit Addends & Expanded Form Problems
Studied the 3 Types of Rock
Learned About Indus Valley and Yellow River Valley, Harappan Civilization, Shang Dynasty, Ancient Mohenjo-Daro, Lei Zu and Silkworms
Phys. Ed. - Biking
READING and VIEWING
• Lost in Translation
(Mones) (Me) •
The Voyage of the Dawn Treader
(Lewis) (Cati) •
The Story of Davy Crockett: Frontier Hero
(Retan) (Sam) • Something BIG Has Been Here (Prelutsky) (Sam)
•
Henry and Ribsy (Cleary) (Read Aloud)
•
•
"Indus Valley Civilization: Crash Course History" (You Tube)
•
PEOPLE and PLACES
• Scout Leadership Training (Jake) • Jazz & Concert Bands (Cati) • Boy & Cub Scouts (Jake & Sam) • Bible Study (Me) • A New Garage (Sam & I) •
A FAVORITE SOMETHING
Happy Homeschooling!

As always, special thanks to these weekly link-ups:
Don't forget to check out my other blog posts this week!
Wednesday Hodgepodge: Edition 193
And check out these FREE on-line resources for YOUR homeschool!
Middle School Chemistry: Build Atoms with Candy
Spanish Lapbook
Multiplication Helps Printables