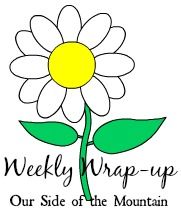 EVERYDAY LIFE
Summer made it's return this weekend! Days of sunny 80s to enjoy before the cold crashes in for 6 months.
How did we enjoy it?
By relaxing of course! Errands were done on Saturday, but on Sunday T__ & his kids came for the day. There were lots of laughs over Apples to Apples, movie watching, ball playing, and roasting hot dogs and marshmallows over a fire. Definitely no complaints this weekend!
MENU
• Hot Dogs, Chips, Watermelon & Marshmallows • Corn and Ham Chowder & Homemade Applesauce • Spaghetti and Meatballs & Baby Carrots • Chicken Noodle Soup • Pepperoni and Ham Pizza •
HOMESCHOOL HAPPENINGS
Would you believe it?
I changed Sam's Spelling curriculum again! I know frequent changes aren't good for consistent learning, but
Grade Spelling
seems so much easier to navigate, and an user-friendly website is conductive to better learning. There's an intro followed by games and a test. (Oh! And those of you with older kids - SAT words!) I decided to start at the beginning, 1st grade, and fill in any missing Spelling rules. He completed 10 weeks in 3 days. So far? Sam doesn't complain...
In fact, the kids have done little complaining about school! Such a turn-around from last year! Cati has been getting up early to complete her work by lunchtime without any prompting from me, and Sam even did a lesson of Math before bed one night to "get ahead".
Our school days have been filled with learning rather than redirection!
Cati
Reviewed Poetry, Title, Outlines and Quotation Capitalization & Irregular Plural Nouns
Solved Area of Rectangle, Exponent, Multiplying and Dividing Fractions & Least Common Multiple Problems
Learned about Mineral Resources & Types of Rock and Identification
Learned about Hammurabi, Hammurabi's Code & the Early Babylonians & Labeled a Map (Mesopotamia)
Phys. Ed. - Walking
Sam
Read Jack Prelutsky Poems & Wrote an Acrostic and Shape Poems
Solved Addition and Subtraction Missing Addends Problems, Fact Families, Number Comparison & Added 3 Digit Numbers with Regrouping
Learned How Minerals are Formed and Resources & Types of Rock
Learned about Hammurabi, Hammurabi's Code & the Early Babylonians & Labeled a Map (Mesopotamia)
Phys. Ed. - Walking, Swinging
READING and VIEWING
•
Skyward
(Monroe) (Me) •
The Voyage of the Dawn Treader
(Lewis) (Cati) •
The Story of Davy Crockett: Frontier Hero
(Retan) (Sam) •
• "Turning Points in History: Hammurabi's Code of Laws" (
You Tube
) • "The Epic of Gilgamesh" (
You Tube
) •
Timed Math Fact Quizzes
•
Math Fox
•
Moby Max
•
PEOPLE and PLACES
• Played Game with T__ & Family (All) • Jazz & Concert Band (Cati) • Boy & Cub Scouts (Sam & Jake) • Bible Study & Fellowship (Me) • Boy Scout Leadership Training (Jake) •
A FAVORITE SOMETHING

As always, special thanks to these weekly link-ups:
Don't forget to check out my other blog posts this week!
Wednesday Hodgepodge: Autumn Gratitude
Random 5 on Friday: From the Livingroom
And check out these FREE on-line resources for YOUR homeschool!
Spelling Lessons Grades 1-8 + SAT Words (Includes Intro, Games & Test)
Fractions Curriculum (until 10/5, must sign up)
Piano Lessons (online)