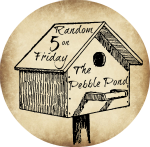 1. Phew! It's been a productive, satisfying day! Mowed the lawn? ✓! Laundry drying on the line? ✓ Livingroom vacuumed? ✓ Tables scrubbed? ✓Gathered trash? ✓
Brioche rising
? ✓ Dirty dishes done? Er. Is there ANY TIME there aren't dirty dishes?
2. Sam is snuggled into my bed with the sniffles, watching a DVD movie with a bowl of Honey Nut Cheerios and skim milk. The cat is attempting to sleep with him, but even sleepy he's a wiggler.
3. Cati is building on Minecraft. It looks like a great place with lots of gardens, but she's got some noisy cats! Meow!
4. Our hens are out scratching and pecking in the woods, in the garden, around the lawn. The ducks are sleeping under the trees near the brook with bills tucked under wings. The dogs are dozing under my feet.
5. Perhaps I should make some
apple crisp
...