Looking for a way to add a little multi-sensory element to your textbook or unit study learning? Try
Zane Education on-line educational videos
!
Zane Education has:
• 1544 educational videos on 384 topics with learning objectives for each video and on-line quizzes
• video learning tools that include lesson plan guides, video word glossary, encyclopedia, dictionary, thesaurus, and world fact book
And there's subject, age and grade charts to help you choose from all the great videos. Now, I can't say that WE stuck to just those videos in my Saplings age/grade groups. They found the middle school and high school videos much more interesting. But this does give you a great starting point to finding appropriate videos for your student(s).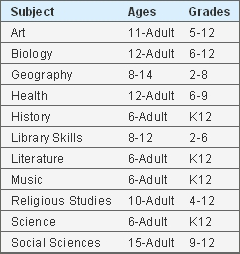 That's a TON of videos, huh? And it was amazing the varied topics they covered!
For our review we watched the 6 videos on Ancient Egypt for our summer unit study. All the videos were around 10 minutes long with captioning at the bottom so kids could read along with the narrator (if they're readers). I love captioning! It ends another learning element for kids. (And if your ducks and chickens are quacking and clucking LOUDLY outside the windows wanting to free range, you won't miss anything! Oh, you don't have THIS problem? LOL)
We found them interesting and fun to watch without taking HOURS to view. (There's summer and swimming and friends waiting!) They'll work perfectly with our Charlotte Mason approach next year with shorter lessons (less then 15 minutes)! A wonderful addition to our Ancient Egypt map, mini-book, and book work!
And then we moved onto the Greek Myths videos. Sugar Maple continues to find mythology very interesting. These videos viewed like stories and were instant favorites with the youngest Saplings.
We'll definitely be using these videos to supplement our studies in the upcoming school year!
But I have one nit-picky negative: I could not figure out how to make the videos laptop screen size (like you can enlarge You Tube videos). It could be my lacking computer know-how, but even clicking on the enlarge icon near the video picture produced nada. Having the videos larger would've made for easier viewing for us.
(ETA: I received an e-mail from Zane explaining that the icons are no longer functional because enlarging the videos would make it more difficult for students to use the options for more information without leaving the video window as well as the videos would stop and need to be started over. The solution for a larger video screen is to adjust the screen resolution setting. I don't know what this is, but I bet some of us more computer savvy would know. LOL The great thing is that Nicholas Tee, Zane's director, is quick to answer e-mails and more than willing to help out with any questions users have! Awesome customer service!)
Zane Education
offers a FREE getting started guide
here
, so be sure to download it to see all the wonderful benefits of membership. (Scroll down at
Zane Education
to find the link on the page.)
How much is an on-line subscription?
Well, Zane offers several
different levels of membership
to meet your needs. Prices start from FREE to $197.89/year.
But Zane is offering it's VERY FIRST promotion in July/August. Subscribers can save a 35% discount a yearly subscription! Just type this code
ZE427HSM (case-sensitive)
in your shopping cart!
Pondering
Zane Education
? Click any of the highlighted links above! Are you a Facebook fan? Visit Zane Education's Facebook page
here
. Or how about other TOS Crew Reviews
here
?
Disclaimer: Our Side of the Mountain was provided this product free in exchange for our honest review. All thoughts and opinions are our own.