I know what you're thinking...or at least some of you...chickens? cool? huh? But really, they are. And I'm not a crazy chicken lady! ::wink:: (Who said YET?! I didn't make any of those hooded fleece chicken ponchos I saw on Facebook, did I? Or the indoor diapers...)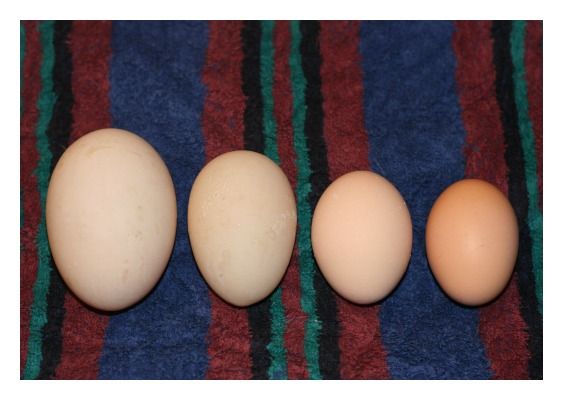 My Top 5 Reasons Why Chickens Are Cool
5. Free ranging chickens forage, eating a diet of plants and BUGS. Now, I don't know about "your neck of the woods", but here in Maine we have a plethora of pesky insects: mosquitoes, black flies, Japanese Beetles, No-see-ums, and ticks. Chickens will eat them all! Devour! I know some of you love your bugs and they do serve a purpose, but I'm OK with a few less in the summer nipping me and the kids.
Our Coop and Run, Speckles, Balsam Fir with Chee (RIP), Egg Salad Sandwich, and White Pine with
Chee (RIP)
4. And those free ranging chickens don't stop at just bugs! No, they also chomp on grass, always leaving a couple inches close to the ground. Now, yes, LARGE flocks can decimate a beautiful, lush lawn, but my feathered 6 haven't. Well, OK, I do have a less-than-lush lawn...Anyway, less mowing. And the digging aerates the soil, and the, um, poo fertilizes it.
3. Chickens help my family be more "green". Not only do chickens provide a natural source of, um, Miracle Grow for our garden compost, but they also eat veggie and fruit scraps, old bread, rice, spaghetti, and many other things from our kitchen. Obviously with the cost of groceries "going through the roof", we eat as much as our food as possible but now next-to-nothing goes to waste. We even dry and crush egg shells to feed back to the flock for a rich calcium source!
Not Chickens, But They Were Foraging in the Woods. Tops of Celery From Making Sticks forSaplings'
Snack, Dandelions Pulled From the Lawn and Dropped Pumpkin Flowers from the Garden Make a
GREAT Duck Soup
2. I bet you thought eggs would be 1, but nope! ::grin:: Fresh chicken eggs are remarkably different than store eggs. Sure, they all LOOK like eggs out the outside, but the inside...Have you ever seen the BRIGHT orange-yellow of a farm egg? Store eggs PALE in comparison. Literally.
1. Our chickens help my kids live a healthier life. How so? Well, we free range under supervision. Our chickens are our pets and we do what we can to ensure their safety while letting them be, well, chickens. My kids are out almost every single day with our flock for at least a couple of hours...rain? yes! snow? yes! bone-numbing cold? some of the time. Fresh air and "foraging" is good for kids too! And no, they're not "foraging" for bugs, but they're building lean-tos in the forest, riding scooters, building snowmen and forts, searching for frogs, and gardening (depending on the time of year). They are more active because of our chickens.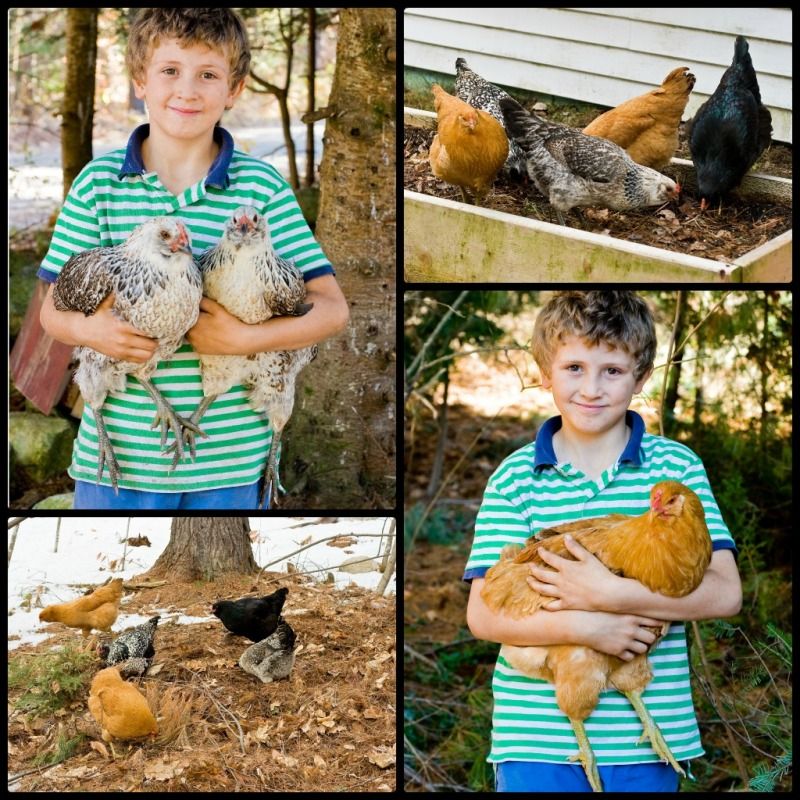 Balsam Fir With "Twin" Rhodies, Chickens Digging and Foraging in Flower Garden, Chickens On The Search
for Bugs in the Fall Leaves, Balsam Fir with Chee (RIP)
So, what has your flock done for you lately?
Our Six Disheveled from Molting this Fall: Speckles, Onyx, Rhodie, Mustard, Little Rhodie, and Sassy
Linking up to these wonderful blogs: