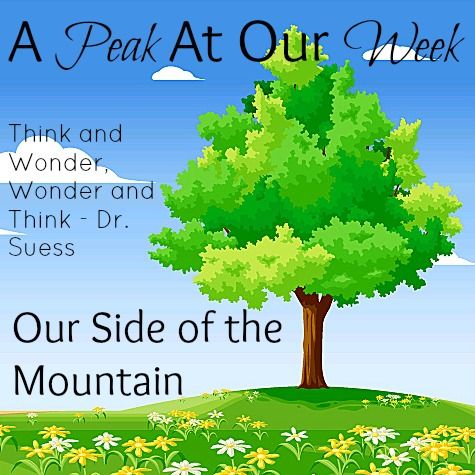 In My Life This Week
Did you notice? Yeah, it's not a huge change. I created an almost new banner and blog button using

PicMonkey

. I'm pretty darn excited to be able to do these things. Finally. Now, if only I could figure out how to put that code box under my new button. (And yes, I have followed a tutorial, but apparently not followed it accurately. ::wink::)
Anyway, on Tuesday we hit our halfway point: 87 days down and 86 more days to go! I mostly satisfied with what we've accomplished thus far this year. There are a few areas I wish we were further along in, but we're working on it. So, we're "heading back down the mountain"! To celebrate I announced "Game Day!" We made munchies and settled down to some History and Chess games and then watched an episode of "Ken Burns: America's National Parks: America's Best Idea".
Homeschool High School
White Pine encountered a very frustrating and annoying issue with his Google SketchUp program: the download the instructor had the kids use was a TRIAL and now it needs to be purchased for use. (And there's NO WAY we are purchasing a $495 program for 3 more hours of this class. ::wink::) But his instructor and the director came though and he was able to get some details added to his hospital.
But he finished up his Around the World in 180 Days for this session. Check! He's moving right along! So, for the rest of this session he'll be concentrating on English, Algebra and Biology, all of which he's made good progress in as well. I see a very light final week of Session 3 for him.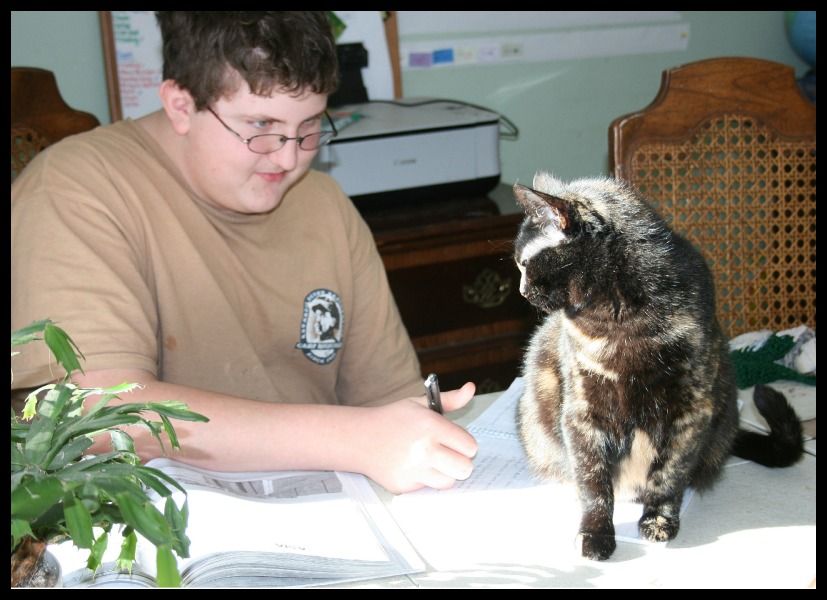 Stripe Was Sitting on White Pine's Math work. It was a Stare Down. I Think the Cat Won! LOL
Accomplishments
The Country of the Pointed Firs, Cather Author Profile and Approach Paper, Exponents, Classification, Google Earth SketchUp, Asia Religion and Culture
Homeschool Elementary
My saplings have both finished their HWT for the year, but I still have to play "What's that word?" Even rewriting
doesn't always help!
Or maybe they're practicing to be doctors someday?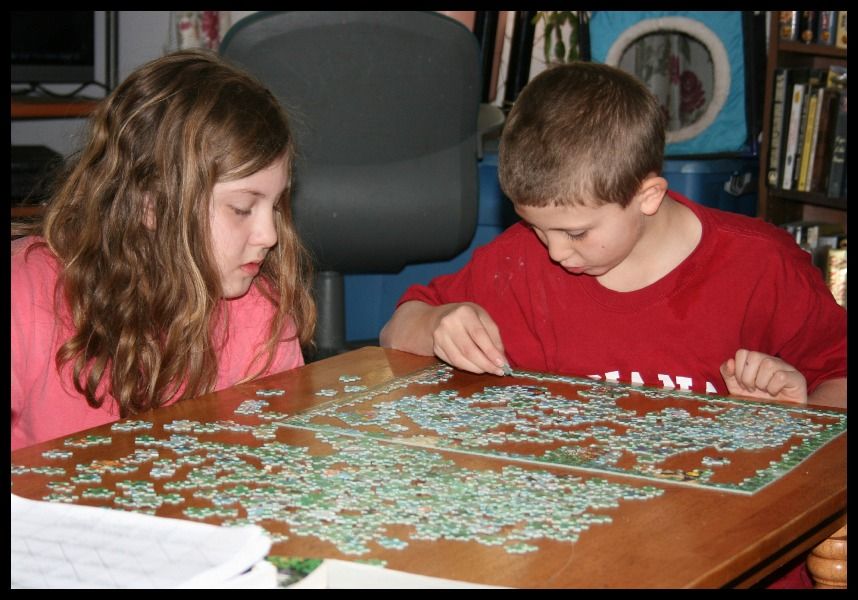 Putting Together a Puzzle During Reading Together Time
Did I tell you that Sugar Maple is writing a story? She asked to type it up on my Microsoft Word program on the laptop. I have to say I think it's been helpful with her Spelling and Grammar! It highlights mistakes that she must fix. But, her creativity is wonderful and the story is already over 2300 words long!
Our Chemistry video from Netflix arrived and we spent our Science time watching it. But unfortunately it didn't spark the interest that I had hoped it would. They did enjoy this elements You Tube video though. Time for a change?
I'm co-hosting the History and Geography Meme with sweet

Phyllis at All Things Beautiful

for a few weeks. Want to see what we did this week in SOTW? Click here! And if you have a History or Geography post, new or old, link up! We'd love to read what you're doing.
Our History and Geography Center: Story of the World (Volume 1) Books - Wall Timeline - Mapwork with
Notes - World Map with Post-it Pointers on Areas Studied
Sugar Maple's Accomplishments
The Mark of Athena, Creative Story, Sequential Spelling Days 43-46, Reading Comprehension, Synonyms,

XtraMath

(Completed Addition), Decimals, Converting Unit Lengths, Fractions, Ancient China (Qin and Calligraphy)
Balsam Fir's Accoimplishments
Flat Stanley, Creative Writing in Wimpy Journal, Money, Handwriting,

Word Builder

, Flat Sam paper doll, Ancient China (Qin and Calligraphy)
Books, Books, Books
"You're never too old, too wild, to pick up a book and read to a child." - Dr. Seuss
Don't you love that quote? It's something that I have to remember because oftentimes our Reading Together Time gets nixed when something needs to go for the day.
After a glance at the bookshelves, I pulled Minn of the Mississippi off, and while reading it aloud, the saplings worked on a 500 piece puzzle. Even though I've read "raves" about the Holling books I'm not really into them, but I hid my reluctance and the kids seem to enjoy Minn.
Places We Went, People We Saw
☃ Girl Scout Penguin Camping (SM) ☃ Basketball (SM/BF) ☃ Scouts (WP) ☃ SketchUp (WP) ☃ Clarinet (SM) ☃ Library
☃
As always, thanks for visiting our "neck of the woods". We're linking up to these wonderful blog hops! Why not click over and read about other homeschool happenings.
Note: Words in this color are links for more information, other blogs, recipes, or even helpful websites.