In My Life This Week
Why do I always slack on keeping bedtimes and no screens until after dark?! ::sigh:: I'm telling you - best rules evah! (That /ah/ at the end is Mainer talk; just so you know. ::wink::) Everyone, well, everyone but my teen son (of course), wake up "bushy-tailed", and they spend their days being creative, imaginative and productive. Our days just seem so much calmer! Now, to keep those habits in place. Isn't that always the hardest?
My Favorite Thing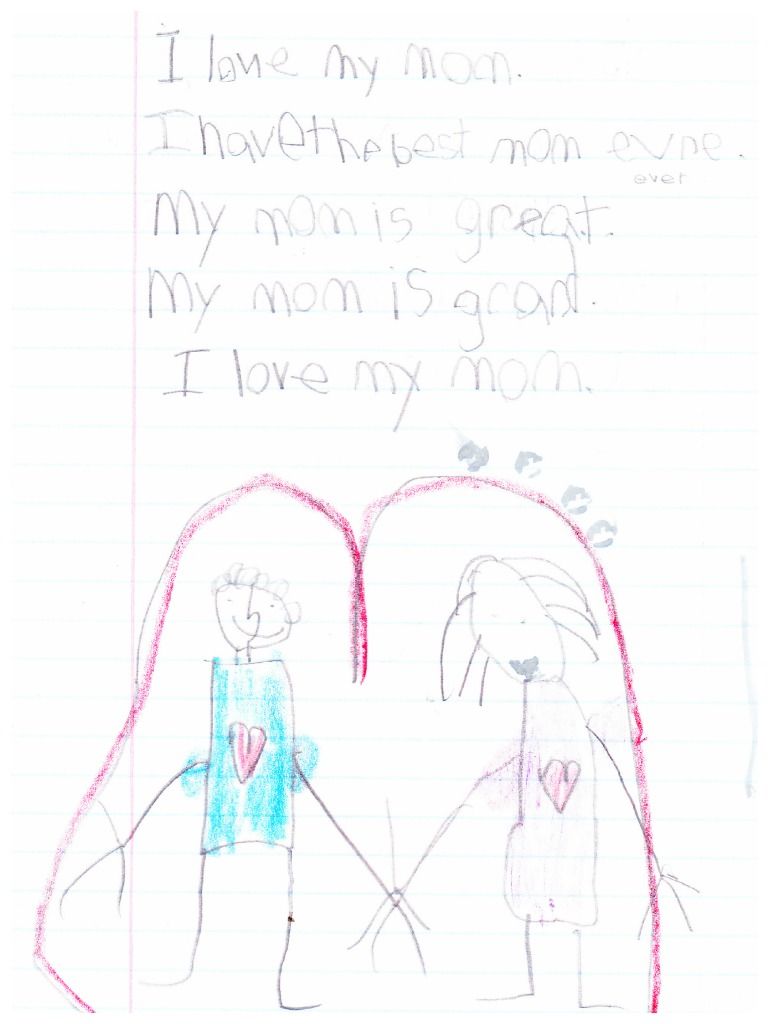 Balsam Fir's Writing Notebook Entry
Homeschool High School
Can I just say that
White Pine has been "rockin'" school
since coming back from vacation? PRODUCTIVE! He's already finished
Grammar 101
mod 3 for this session! And a chapter and 3 labs in Biology! And most of a unit in Excellence in Literature II!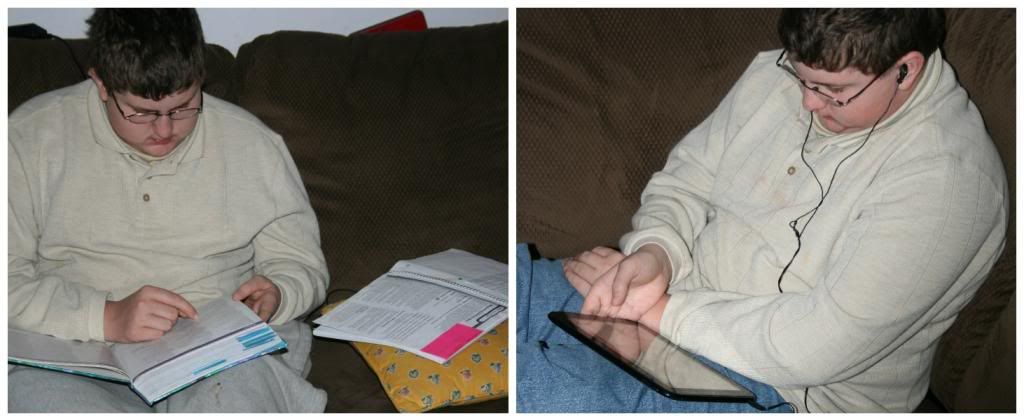 Getting Ready to DNA Labs - Googling Asia History
He's also TOTALLY loving his Google Earth SketchUp class at the high school. He chose to design the hospital for the group's digital town, and has been hard at work creating it. Problem? He's on MY LAPTOP doing it! ::wink:: But I'll give up my Facebook time for him.

Images of White Pine's SketchUp Hosptial - 3D Imaging In Progress
Accomplishments
A Grief Observed, CS Lewis Approach Paper, Grammar 101 Mod 3, Graphs of Linear Equations, DNA and Acid Experiments, Google Earth SketchUp, Asia Geography and History
Homeschool Elementary
Balsam Fir has learned to "borrow"! Such exciting news, huh? We've had a challenging math year with little progress so learning something new was a big "thumps up"! And we've continued to trudge on with Time Bingo and Coin War. Wonder when those concepts will click?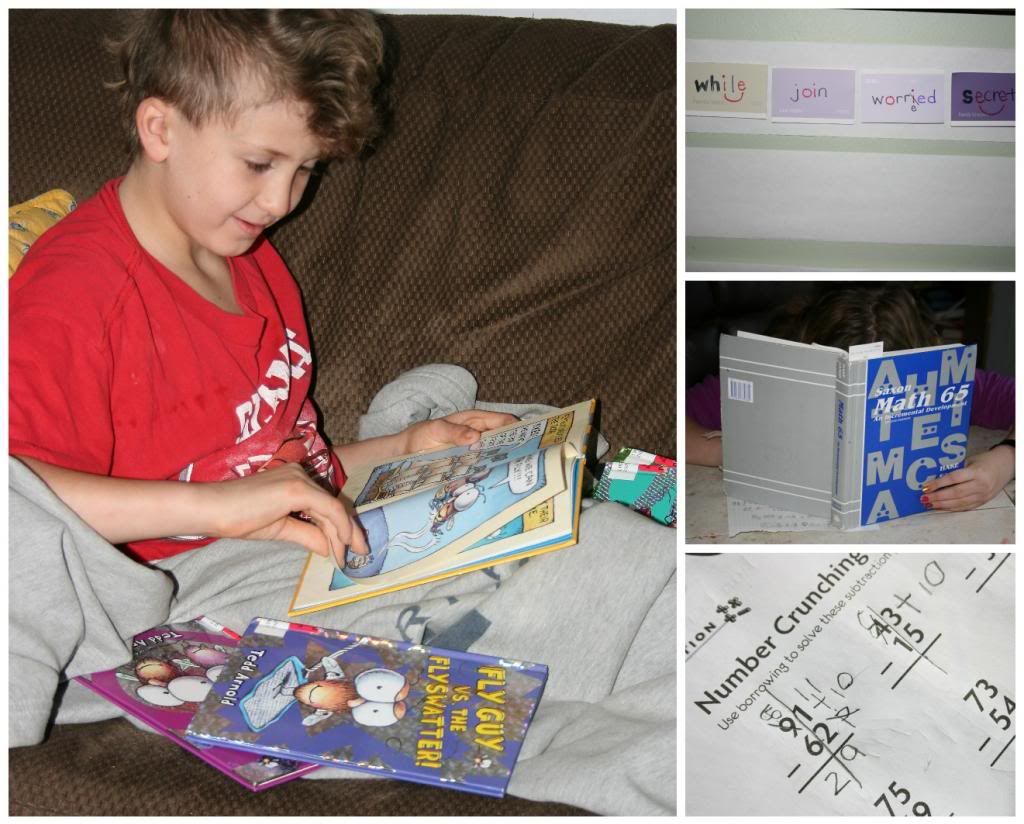 Balsam Fir Reading Fly Guy Books - Balsam Fir's Visual Helper Word Wall -Sugar Maple
Hiding Behind Math - Learning to Borrow
We're still covering the finer points (elementary-level) of states of matter for Chemistry with Chem4Kids and watched this You Tube video and made Rock Candy (crystals).
And we briefly headed to the Americas to learn about the Nazcas who carved HUGE animals, flowers and other things into the earth that can be seen from planes and the Olmecs who made a mud pyramid in Central America and created sculptures of HEADS only. Then we returned to Ancient Rome in SOTW.
Balsam Fir's States of Matter Notebook Page - Sugar Maple's Mapwork -Balsam Fir
Reading
Sugar Maple's Accomplishments
Phantom Tollbooth, Heroes of Olympus: Son of Neptune, Creative Writing (on Computer), Spectrum Reading Comprehension, Sequential Spelling Days 32-36, Operations with Mixed Fractions, Decimals and Percentage, States of Matter, Ancient Rome
Balsam Fir's Accomplishments
In, Out and About in Catfish Pond, Thank You Notes, Book Report, Word Wall, Borrowing During Subtraction, States of Matter, Ancient Rome
Books, Books, Books!
I'm still reading aloud the Treasury of Greek Myths: Classic Stories of Gods, Goddesses, Heroes & Monsters to my younger saplings. Sugar Maple is SO into Greek Myths! (Note: There are some questionable areas in the book. I'm OK with them, but you may not be, so skim through before sharing with your kids.) And Balsam Fir can't wait to hear Diary of a Wimpy Kid: Cabin Fever before
bed.
Places We're Going, People We're Seeing
☃ Basketball (SM/BF) ☃ Scout Achievement Awards (WP) ☃ Scouts (BF/WP) ☃ Enrichment Class (WP) ☃ Library (All)
☃ High School Basketball Game with Friends and Overnight (All)
☃
Something to Share
Thanks for visiting us at Our Side of the Mountain! We hope that you and your family are well! We're linking up to these awesome blog hops!