In Our Life This Week
Blue Spruce was away for additional job training this week, so I was on my own with the Saplings.
It's always strange having a family member away!
But you know us - we were "busy beavers" and the week flew by!
What's Cooking?
It's the Girl Scout Bake Sale Fundraiser tomorrow, so Sugar Maple and I whipped up some quick, easy sweet treats to bring to the sale. Looking for something yummy? How about some No Bake Chocolate-Peanut Butter Oatmeal Cookies? Or Peanut Butter Bars?
Homeschool Elementary
So, what's our fun way of reviewing our Botany?
Why, we go on a hike of course! ::wink::
During our stroll near the lake, we discussed and found samples of Angiosperms and Gymnosperms, Vascular and Non-vascular plants, and Monocots and Dicots, and explained photosynthesis and chlorophyll to Balsam Fir while looking at fall foliage and saw several species of fungi. Then we found animal tracks along the water's edge and followed them. Later, we searched through our nature books to ID those tracks. And the rest of the week? Well, we dissected flowers, watched phototropism in our Plant Maze Box, measured the growth of bean seeds in light and non-light environments, and made a list of all the tree species in our yard (just because the kids were curious).
This week's handicraft project was Brown Paper Bag Autumn Trees.
(You can find the instructions here.) But they didn't follow the instructions to the T. ::wink:: They created paper bag FORESTS, complete with logs, bushes, people, and birds. Our favorite resource this week! Are you doing any fun, creative fall crafts?

Sugar Maple read Children of the Lamp (PB Kerr) and Treasure Island (Robert Louis Stevenson), and Balsam Fir continued on with Nate the Great and the Snowy Trail (Marjorie Weinman Sharmat) and The Lorax (Dr. Suess)
Sugar Maple
✔ English - Personal Narrative Writing, Using Time Words, Past Tense, Reading, Cursive, Spelling with Samson
✔ Math - Geometry (Line Segments/Points), Tally Marks, Word Problems, Money, Missing Number Problems
✔ Botany - Flower Dissection, Phototropism, Carnivorous Plants (Pitcher/ Venus Fly Trap/ Bladderwort/Sundew)
✔ Ancient History - Gilgamesh, Indus Valley Citadels
✔ Extras - Nature Hike, Lowe's Build and Grow, Soccer, Clarinet/Band, Girl Scouts Outdoor Day, 3D Art, ZooWhiz (computer), Spanish (computer)
Balsam Fir
✔ Math - Subtraction, Writing Equations, Logic Puzzles, Number Lines
✔ Botany - Flower Dissection, Phototropism,
Carnivorous Plants (Pitcher/ Venus Fly Trap/ Bladderwort/Sundew)
✔ Ancient History - Gilgamesh, Indus Valley Citadels
✔ Extras - Nature Hike, Legos, Lowe's Build and Grow, Soccer, 3D Art, Baking (Frosted Brownes)
Homeschool High
So, White Pine continued on with his studies. I wish I could put something new and exciting here, but his days pretty much look the same: he piles his books and laptop on the sectional sofa beside him, puts ear-buds in his ears with music playing to block the noise from the rest of us, and he quietly and intently goes about his learning in his PJs until he gets ready for soccer in the afternoons. Very college-like! ::sniffle::
He's certainly growing up!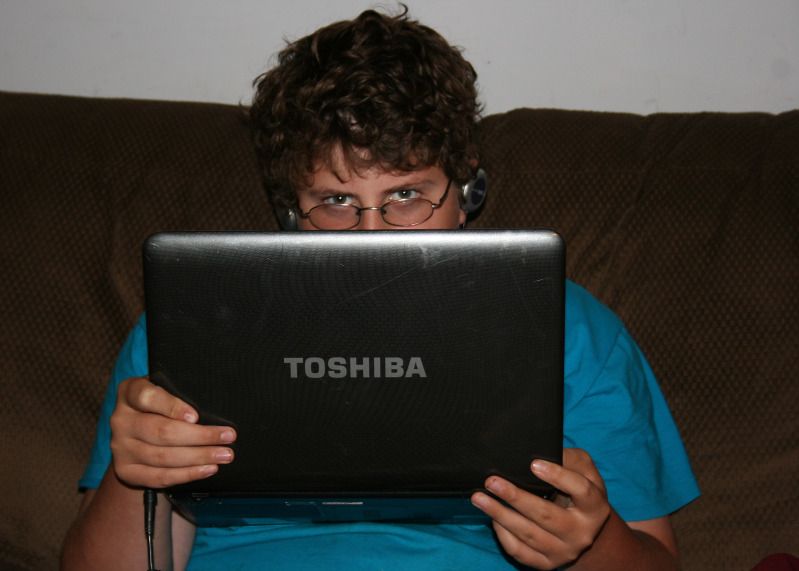 ✔ English - Walden (Thoreau), The Further Adventures of the Swiss Family Robinson (Defoe) Approach Paper, Grammar (Adjectives/Adverbs)
✔ Algebra - Multiplication/Division of Signed Numbers, Inverse Operations, Perimeter/Radius, Geometry (Lines/Segments/Area), Order of Operations
✔ Biology - Water Molecules, Water Properties, Acids/Bases, Carbohydrates, Carbon Compounds (Macromolecules/Lipids/Nucleic Acids/Proteins/Enzymes), Ecology
✔ World History - Africa
✔ Extras - Scout Mountain Hike, Corn Maze, Soccer, Scout Meeting
Ponderings
Have you ever seen a molting chicken? Poor things! Our hens are about 15-16 months old now...and starting to go through their first molts (after chick-hood). They'll lose all their old feathers and grow in new ones for the winter months. New feathers are better for keeping the chickens warm. We've got a coop full of flying feathers and grumpy girls! But most of them are still laying!
Something to Share
Well, that's a wrap from Our Side of the Mountain this week!
Thanks for stopping by!
Have a GREAT week!
Blog Hops