We love durable, multi-use educational products that bring a hands-on element to our more traditional school learning at Our Side of the Mountain.
I have to say that sometimes it's hard to find DURABLE and MULTI-USE and FUN in ONE product. But we did with our Puzzle Doubles! Discover It! 3D - Bugs puzzle from The Learning Journey! And it's a good thing because Balsam Fir can be a little rough with his things! ((wink))
What's great about The Learning Journey is that their products recognize that kids need to learn from BOTH sides of their brains!
They've interwoven the logical learning side of the brain with the creative side and developed products that stimulate multi-sensory learning.
How awesome is that? And each of their products have icons above their item descriptive to help you find just the right hands-on activity to match your child's needs.
Here's the product description with the TLI Skill icons for our puzzle:
Puzzle Doubles! Discover It! 3D series takes the concept of a traditional puzzle and brings it to life! Each product in this series includes a 30-piece, 24in X 18in, beautifully illustrated 'talk about' floor puzzle. As an added bonus this series includes 5 magical 3D lenticular stickers that allows children to create their own interactive 3D scene! Once children have completed the puzzle, they can turn it over and color the giant illustration themselves using write-on - wipe-off crayons. Puzzle Doubles! Discover It! 3D provides children with multiple learning activities combined in one great puzzle! Ages 3 plus years.
Now, see those icon pictures?
Well, they tell me that our puzzle teaches language and reading skills, cause and effect and problem solving strategies, and hand-eye coordination.
A pretty handy way to help us choose appropriate toys and puzzles for our kiddos!
So, what did Balsam Fir think?

Well, he headed outside one warm morning, poured the puzzle pieces onto the driveway and put it together. It was a little too easy for him, but he found the puzzle scene very interesting and talked about the insects and plants. He wasn't interested in turning the puzzle over to color in the back with wipe-off crayons, but you can!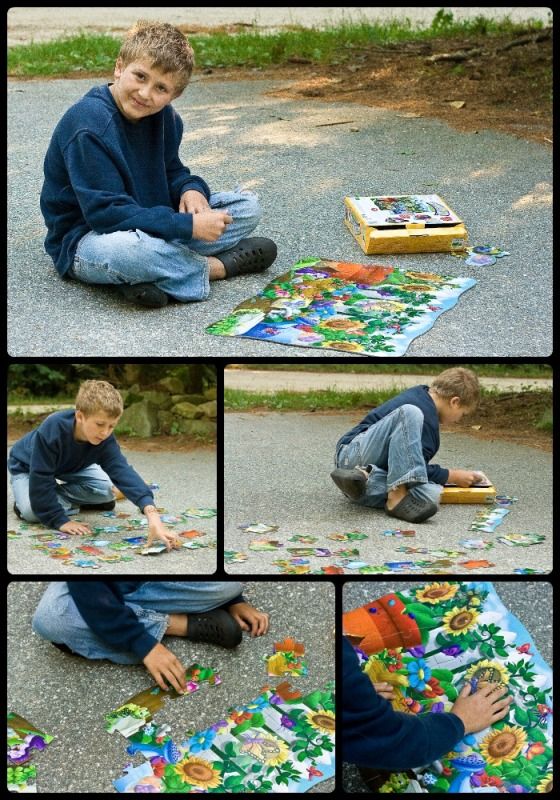 The Learning Company doesn't do JUST puzzles. Oh, no! There are lots of fun, educational (to put on the Christmas list) toys! So, head over and check out their on-line catalog

here!
Thumps up!
Disclaimer: Our Side of the Mountain received The Learning Journey Puzzle Doubles! Discover It! 3D - Bugs puzzle free in exchange for our honest review. All thoughts and opinions are our own. For more information, head over to The Learning Journey by clicking any of the highlighted links above.