In My Life This Week
Kitchen Chaos!
Over the weekend we made 6 Chocolate Zucchini Breads (me), 1 quart Sweet Zucchini Relish (White Pine), 1 Chocolate Chip Banana Bread (me), 3 quarts Bread and Butter Pickles (White Pine and Blue Spruce), 1 2-layer Chocolate Oreo Cookie Cake (Sugar Maple), and enough Chicken Noodle Soup (that I just made up "on the fly") for 2 dinners. (Click on the highlighted names for recipes.)
Phew!

I'm reading The Girl With the Dragon Tattoo by Stieg Larsson. It took about 150 pages of what I'll call "background drudgery" before the story took an interesting turn. I almost gave up on it -
a RARE thing for me
- but I didn't and I'm enjoying it.
Anyway, we started
Week 1
off with a
rainy
trip into the city for a Portland SeaDogs AA baseball game at Hadlock Field. It was
Field of Dreams

Day
so the kids were able to walk around the field (before the rain delay and the game started) and the players came out through the corn stalks before playing. The SeaDogs lost, but that's OK.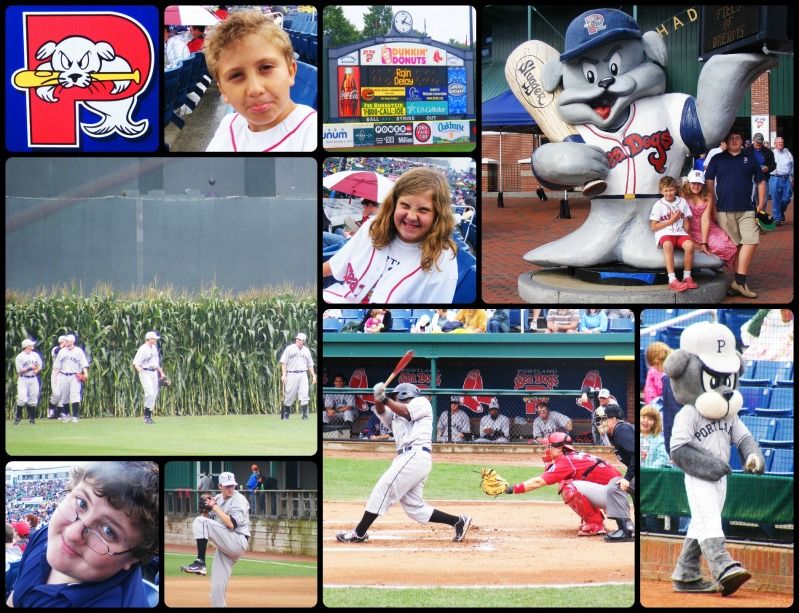 And we ended out week with a Back-to-Homeschool get together at the lake for swimming and picnicking and a free curriculum swap with a small group of homeschoolers.
Homeschool Elementary
My revamp of our work binders are working like a charm!
(Did you see my post on the workbox cards here?) The grumbles were at a minimum, and Sugar Maple and Balsam Fir had a productive first week! I know - it's still early, right? ::laugh::
Now, was it perfect?
No complaining? No whining? Well...
Parts of our return to Charlotte Mason have made the Saplings very happy.
Sugar Maple really likes having breaks this year and shorter, more focused chunks of learning, and Balsam Fir is digging handicrafts. This week he learned to use a paper template to make a bi-plane from a TP roll and empty cereal box. (I would share the link to the bi-plane, but the website carries a "malicious" something or another that my computer security picked up on and stopped.)
✔ English - Main Idea/Topic, Supporting Sentences, Punctuation, Proper Nouns, Spelling (root -/in/), Vocabulary, Dictionary Use, Cursive, Paragraph Writing
✔ Math - Sequencing, Odds/Evens, Place Value, Money
✔ Science - Taxonomy, Binomial Nomenclature (Scientific Classification)
✔ History - Family Tree, Nomads, Fertile Crescent
✔ Extras - Latch-hook, Making a Tin Foil Dinosaur Model, Spanish, Computer, Salt (History/Geography), Word Processing, Kayaking
Balsam Fir
✔ English - Sight Words, Oral Reading, Sentences, Nouns/Verbs, Punctuation, Questions, Wrote a Chicken Story, Spelling
✔ Math - Sequencing, Before/After, Greater/Less Than, Calendar (Months/Days/Date), Tally Marks, Place Value
✔ Science - Taxonomy, Binomial Nomenclature (Scientific Classification)
✔ History - Family Tree, Nomads, Fertile Crescent
✔ Extras - Built a Cardboard Bi-Plane and Submarine with TP Rolls, Computer, Scouts, Spanish, Salt (History/Geography), Kayaking
Soccer started for Sugar Maple and Balsam Fir on Wednesday.
Let the goal-tending begin!
Sugar Maple read Matilda by Roald Dahl and started D'Aulaires' Book of Greek Myths by Ingri and Edgar Parrin D'Aulaire.
And Balsam Fir
reluctantly
read Nate the Great and the Lost List by Marjorie Weinman Sharmat. Someday my little boy
will
enjoy reading!
Homeschool High School
White Pine started his
Excellence in Literature II
focus book
this week:
Robinson Crusoe
by Daniel Defoe. He's read it before so it's been a quick, easy one for him.
Perfect to start off the year!
He wrote up his author profile a
nd wrapped-up Honors English with
15 lessons on English Grammar 101. He worked through 4 lessons of Saxon Algebra 1, and got a GREAT start on his Biology and World History studies.
His days were long, but he had a positive attitude about it.
✔ English - Robinson Crusoe, Author Profile, Grammar (Verbs)
✔ Algebra - Fractions, Lines/Segments, Angles, Polygons, Perimeter, Circumference
✔ Biology - What is Life, Scientific Method/Designing Experiments, Redi's Experment, Branches of Biology, Matter, Elements
✔ World History/Geography - Africa
✔ PE - Walking, Soccer, Kayaking
✔ Extras - Boy Scouts, Computer
Soccer also started for White Pine.
And I'm doing OK too. I know you were wondering. ::wink:: It's been REALLY hard for me to sit back and not micro-manage his schoolwork. Really hard. ::sigh::
It's time he learns to set goals, manage his own time and reap the benefits or the consequences of meeting or not meeting those goals.
What's Working/Not Working?
I broke poor Balsam Fir's heart this week. ::sigh::
Why?
Well, I had him write lines for a disrespectful action towards his sister. Time-outs have never worked for him nor taking away personal items, but I've discovered that writing lines does the trick for "big no-nos". So, he had to write
"Spitting is nasty. I will not spit on my sister."
5 times. Yes, he spit on his sister! ::sigh:: And does he loathe writing lines! Even just copying the rule 5 times is enough to deter him from a 2nd offense. But, alas, he did not appreciate the punishment and drew me a picture on the back of his paper of a broken heart.
(I'll admit that a chip broke off my heart seeing his drawing though. Sometimes it's hard being a Mama! Fortunately his discord didn't last.)
Ponderings
Waste not, want not, right?
Having chickens and ducks definitely cuts down on food that we would throw away. After chopping up some celery sticks, I saved the tops and bottoms and made Duck Soup.
What's Duck Soup?
Throw some grass clippings, pumpkin blossoms and celery bits into a plastic container of fresh water...and watch them them munch!
You'd think it was GOURMET!
::laugh::