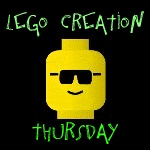 On Tuesday, S's much anticipated Lego Club Jr. magazine arrived in the mail. (For your own FREE subscription, visit Lego Club on-line and sign-up.) He LOVES LOVES building with Legos (even if sometimes they also frustrate them).
Lego Club Jr. Magazine
He quickly settled down to peruse the pages and then set off to search through our bins of scattered Legos to find the pieces to build the space station and bird projects inside the pages.
S Holding his Lego Project Bird
Close-up of Bird
Space Station
Check out other Lego creations at Lego Creation Thursday! And if you have a Lego Maniac, sign up for a free subscription at the link above!