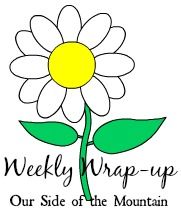 EVERYDAY LIFE
Winter has arrived...to some parts of Maine. The first snowstorm of the season was a whopper, closing down schools and over 100 000 homes without power. (2 of my sisters and their families have been without power for 5 days now...) But, besides a couple of flurries and wind gusts, the storm passed us by. Phew! It may be November, but I am not ready for snow! The lawn mower is still out...
MENU
It's crockpot time! The weather has turned chilly, so we're craving soups and hearty comfort foods. What are your favorite slow cooker meals?
• Crockpot Chicken & Rice Soup with Cornbread • Egg Salad Sandwiches with Carrot Sticks & Applesauce • Cheese Pizza • Crockpot BBQ Shredded Chicken Sandwiches with Baked Fries & Applesauce • Cheeseburgers with Tator Tots & Corn •
HOMESCHOOL HAPPENINGS
Well, here we are - the beginning of our 2nd quarter! It was a rough start to the week - a dead battery in the van (and stuck at band practice for 2 hours waiting for AAA) and Daylight Savings Time. Changes in our routine, even as relaxed as it is, can throw us off. But we bounce back pretty quickly! How did your week go?
Mary from
Homegrown Learners
wrote about a website for free drawing lessons at
Art for Kids Hub
, so this week I was determined to get in some art. It seems like the first thing to go when we're pressed for time. But these visual lessons were quick and easy to implement!
We also started watching CNN Student News on-line.
I've seen a number of you including it in your homeschooling and thought it was a great idea. (It's taken me
months
several weeks get started...) We don't have cable so our knowledge of current events is limited, but now all of us -
me too!
- can be better informed.
And the best part?
The kids seem to enjoy it!
Cati
Reviewed Progressive Forms & Linking Verbs, Edited an Essay, Wrote on Wattpad (Creative Writing), Wrote an Opinion Article for the Newspaper Editorials
Solved Variable & Evaluation, Multiple Unit Multipliers, Conversion of Units of Area, Rate & Adding & Subtracting Mixed Number Fraction Problems
Studied Weathering & Soil Formation Including Types of and Effects of Weathering, Soil Composition & Types, Land Conservation & Waste Disposal & Recycling
CNN Student News
Read about Ashurbanipal & the First Library, the Assyrians & Babylonians & Nebuchadnezzar & the Hanging Gardens of Babylon
Began Word Processing Lessons On Dance Mat Typing
Baked Chocolate Chip Cookies & Homemade Pretzels
Walked
Sam
Read Sara Teasdale Poetry, Wrote a Poem with Rhyme & Rhythm (Syllables), Created an On-line Magnetic Poem, Practiced Spelling Words & Reviewed Physical and Character Traits of Characters, Comprehension & Vocabulary
Solved Metric Unit of Length, Fractions, Dollar & Cents, Parallel & Perpendicular Lines, Right Angles & Missing Addend Problems
Studied Earthquakes Including Types of Earth's Crust Stress, Types of Faults & Measuring Earthquakes
CNN Student News
Read about Ashurbanipal & the First Library, the Assyrians & Babylonians & Nebuchadnezzar & the Hanging Gardens of Babylon
Biked
READING and VIEWING
• Lost in Translation (Mones) (Me) • Lily's Ghost (Drake Harris) (Me)
•
The Hobbit (Tolkien) (Cati) • The Story of Davy Crockett, Frontier Hero (Retan) (Sam) • Sea of Ice: The Wreck of the Endurance (Kulling) (Sam) • Submarines
(Kramer) (Sam) • Henry and Ribsy (Cleary) (Van Read Aloud)
•
• "Seven Wonders of the Ancient World - Gardens of Babylon Part 1" (
You Tube
) •
PEOPLE and PLACES
• Scouts' Church Clean-up (Jake & Sam) • Holiday Fair Fundraiser Band Concert (Cati) • Dinner & Games at the S__'s (All) • Jazz & Concert Band Practice (Cati) • Cub & Boy Scouts (Jake & Sam) •
A FAVORITE SOMETHING
Happy Homeschooling!

As always, special thanks to these weekly link-ups:
Don't forget to check out my other blog posts this week!
Memory Monday: My First Friend
Tuesday Coffee Chat: The Right Things
And check out these FREE on-line resources for YOUR homeschool!
Drawing Lessons at Art for Kids Hub