This week I'm joining Memory Monday

over at Retired Not Tired. Each week she provides a writing prompt. (Next week is Most Influential Person.) Why not head over and share your memories?
MY FAMILY
I could tell you about my family. I have 3 wonderful kids. My oldest son is almost 16, a bright, calm young man, active in scouts. My daughter is almost 13, a creative young lady, with musical talent. And my youngest son, almost 10, an inept builder and great for home repairs. But I decided to go a different "route" and share my
PET FAMILY MEMBERS
with you instead.
THE DOGS
Rosie, our Golden Retriever, is 9 now. She came to our family as an 8-week-old puppy soon after we moved into our home. (She was quite motion sick on her way home that day...) She loves a good walk with puddle exploration.What Retriever doesn't like water?
Winnie, our Nova Scotia Canadian Toller, also 9, arrived only 1 1/2 years ago. My sister could no longer take care of her with her long work hours so we welcomed her into our home. She's calm and oh-so-sweet. But she has a deep bark that does NOT match her gentleness.
Rosie with Spiderman on Skates
THE CAT
Stripe was brought home one evening by my daughter. I was bathing her little brother when she walked in with this tiny kitten with the biggest blue eyes ever. So scared! She and her friends had found 2 kittens abandoned on the side of the road. Perhaps by a feral mother? They found a home for the other kitten, but not for Stripe. She was in rough shape, dehydrated and only about 3 weeks old. She couldn't stand, but with diligent effort she made it through. She's 4 now, feisty, dog-like. She loves scratching through the Legos to find rubber tires to throw around and chase.
Stripe Helping with Homeschooling
THE FOWL
Sam's Drawing Several Years Ago
3 1/2 years ago we incubated chicken eggs with the
intent
on giving any chicks to my mom. But, after watching them hatch, we couldn't part from them.
They were just too fuzzy!
3 of our 10 chicks were roosters and were rehomed nearby as "teenagers", and another, our first to hatch, died suddenly one afternoon when she was 1 1/2 years old. (I suspect a poor crop...) Since then we added another hen who was getting pecked on by the others in my mom's flock, and 3 "babies" who are now 1 1/2. A total of
10 hens
. But they weren't enough. We also added
2 Pekin ducks
- AFLAK! - to our flock from a friend who was wanting to rehome them.
Those two are quite a pair!
They are constantly quacking to each other, arguing, but never far from one another.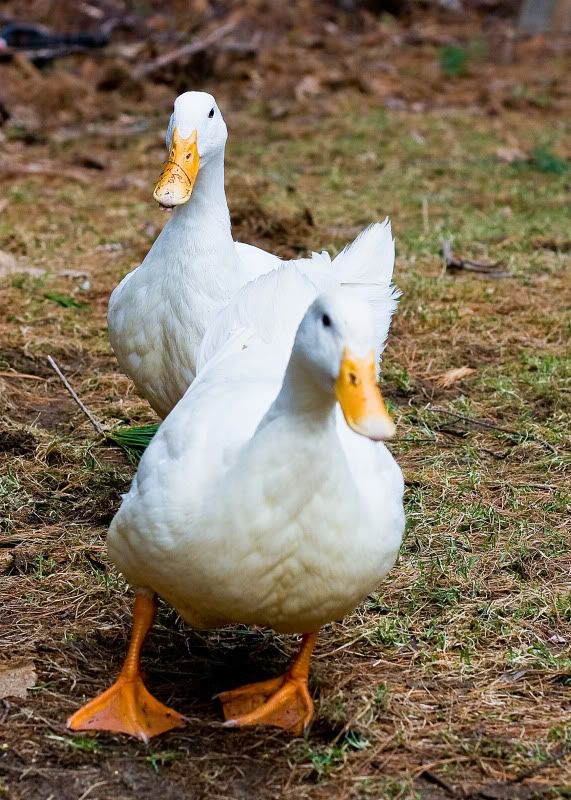 Olive and Opal
Memories are wonderful!