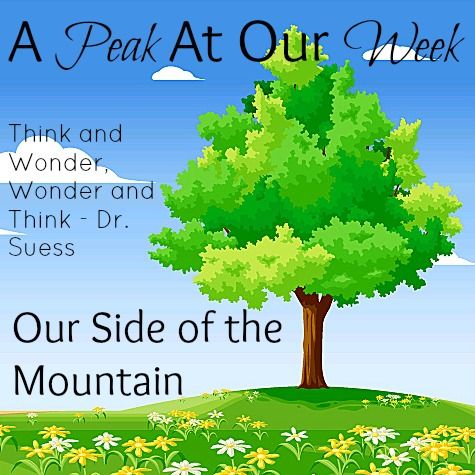 In My Life This Week
Winter lingers. ::sigh:: We were hit with another snowstorm all day Tuesday, leaving us shoveling out on Wednesday. I'm not sure the
ONE
shovel we have left this season is going to hold out much longer. ::wink:: Here I was hoping to tackle some
SPRING CLEANING
this week. Do you "spring clean"?
Yes, that is a photo from a previous storm. After 3 months of snow, it all kinda looks the same. Trust me.
I had
SURPRISING
news from the garage: the van
DOES NOT
need a tire rod! When I got a new tire last month I was told a tire rod was loose, but my mechanic said, "I can't find anything wrong". He said I should come back after
POT HOLE SEASON
for an alignment though. For those of you in Maine, you know what that means! ::wink::
Homeschool High School
Wednesday marked our 1/2 way point this session so White Pine and I sat down to check his progress. Meeting educational goals through accountability has been a great step in learnng time management for him. He makes this
WHOLE PROCESS
easy for me though.
Excellence in Literature II: Literature and Composition:

1 unit left
English 101 (Grammar):

Not Started
Saxon Algebra:

15 lessons left
Prentice Hall Biology:

1 chapter left
Biology Coloring:

11 pages left
Around the World in 180 Days:

FINISHED
Computer Science 101 (Coursera):

on schedule
Introduction to Physics: How Things Work (Coursera):

on schedule
I suppose all this doesn't make sense, but what it
DOES
mean is he's in good shape to meet this session's goals
EARLY
. Oh, English Grammar? He
ALWAYS
waits until the last week to do it because he completes it in a couple of hours. (I probably should have him drop it, but I figure a final year of Grammar will "cement" concepts.)
White Pine did a pretty cool experiment identifying parts of a flower and looking at them under a microscope. He had "help" from a
FURRY
lab partner! ::grin::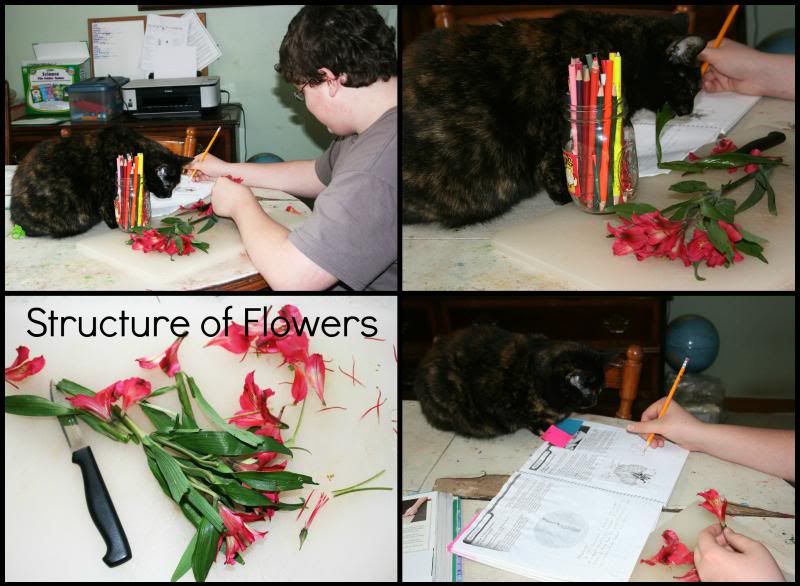 Homeschool Elementary
Ah, a shaky week with Balsam Fir. ::sigh:: Some days go smoothly and others, well, they go. Inbetween the whining and sensory meltdowns, he did get
SOMETHING
done, but it was a challenge.
He also decided that he's
D-O-N-E
with his Writer's Notebook. But I had a back-up plan for when this happened:

Handwriting Worksheets from ESL Writing Wizard

. These 10 page
FREE
handwriting workbooks focus on a specific topic, such as My Body, Airships and the Water Cycle, AND you can choose Zaner-Bloser or D'Nealian print or cursive. It's not creative writing, but it'll keep him writing...for now.
Do you have a catchy tune to learn the continents? the world's oceans?
We were kind of all over the map with SOTW: Middle Ages this week: Byzantine Empire (Europe/Africa), Gupta Dynasty (India), Yamato Empire (Japan), and finally the Maori (New Zealand), but now we're heading back to Europe and learning about the Franks,Visigoths and the Vikings. We made paper viking ships (from the SOTW activity guide). I'm wondering when the gallant knights arrive...
Science remains unstructured. I'm not sure where we're going with it for the rest of the year, but we're still learning. Sugar Maple is keeping a Science Notebook and learning about areas SHE chooses - the water cycle, Astronomy, rainbows, fire, states of matter - and Balsam Fir is working his way through our Lakeshore file folder games. I'm hoping that spring will arrive at some point and we can do more nature studies.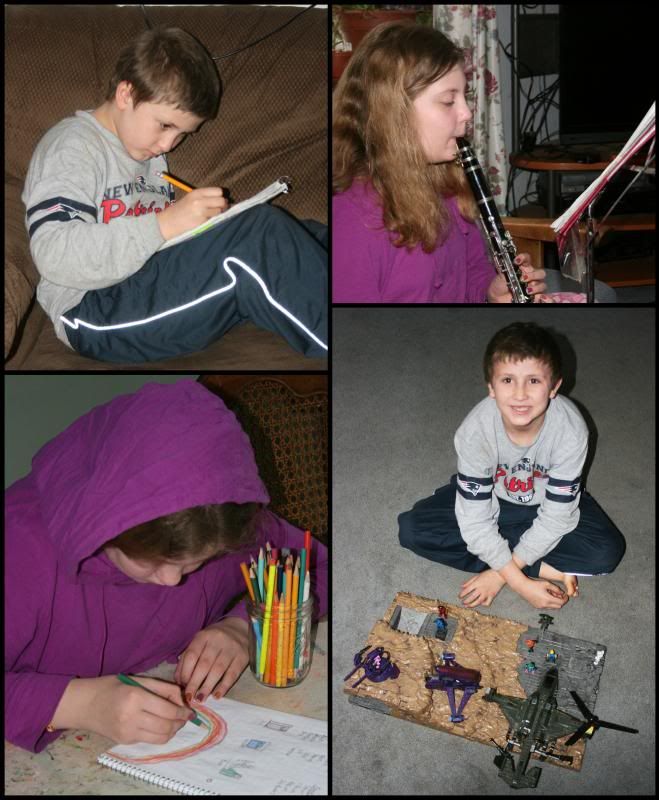 Places We Went, People We Saw
♥ Basketball (SM) ♥ Girl Scout Cookie Booth (SM) ♥ STEM School Meeting (WP)
♥
Museum of Science (BF) ♥ St. Patrick's Dinner with Friends (SB/WP/SM) ♥ Scouts (BF) ♥ Garage (SB) ♥ Lacrosse (WP)
♥
Clarinet/Band (SM) ♥
Something to Share
Sugar Maple found a free, fun app for her little tablet that has different
MOUTHS
that talk as you make noise.
Giggle Time!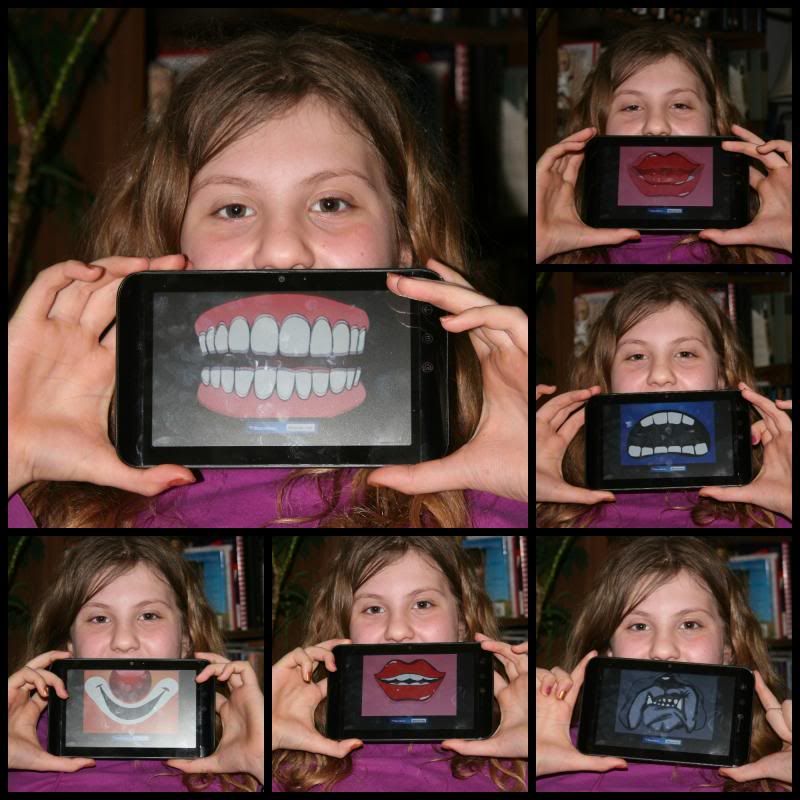 Thanks for stopping by! I'm linking up to these
AWESOME
blog hops. Check them out!