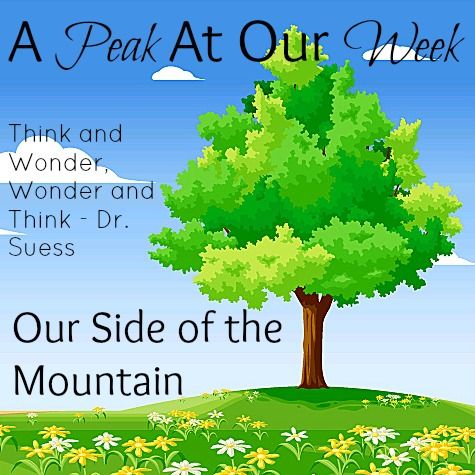 Oh, gosh, it's been a while since I've done a
Day in the Life
post, hasn't it? I love reading how others spend their homeschooling days. It's interesting to see how different we homeschoolers are, yet, we all have a common goal of raising lifelong learners. So, welcome to Wednesday at Our Side of the Mountain!
In Our Homeschool this DAY
(Oh, and before you read about our day...I'll be starting up the Explorers Blog Hop again on Sunday. I'd love for you to link up ANY and ALL outdoor posts!)
6:30-8:30am :stretch: I woke up with a cat laying on my feet. She followed me downstairs as I did some tidying up. (Dirty dishes, vacuuming and sweeping never end, do they?) I let the dog out, opened the coop and brought feed and water to the chickens and ducks. The animals were "bushy-tailed" this clear, chilly morning. :shiver: I ate applesauce-maple syrup oatmeal with honey tea for breakfast. And then settled down for some Words with Friends and Facebook time.
8:30-9:00am Methinks the saplings played quietly in their bedrooms a little too late last night as I had to wake them up. Groggy, grumpy kids meandered downstairs for oatmeal or cereal while I scrubbed toilets. (Just keeping it real. :wink:)
9:00-10:45am
White Pine plopped down on the sofa to read Ivanhoe and watch physics videos from

Coursera

. He's not feeling too spiffy so I gave him a dose of allergy meds. Sugar Maple, Balsam Fir and I gathered around the coffee table to learn about knights and samurai from

SOTW

. (I wondered when we would get to knights!) I photocopied a shield from the activity book and the saplings drew a picture to represent themselves (like knights did) and, after a brief Haiku lesson, wrote poems (like the samurai did). Then they moved onto math and after, while Sugar Maple showered, Balsam Fir finished up a Types of Animals

science file folder game

. And I re-vacuumed the livingroom as Balsam Fir left a trail of Coco Krispies through it. :sigh:
10:45-11:00am
Break time! Balsam Fir "disappeared" upstairs to build with Legos (scattered around his bedroom like snowflakes in a blizzard) and White Pine started "Ken Burns: The War" (

Netflix

) (WWII) and pulled out his

Biology Coloring Book

. And Sugar Maple? She spent her time combing her hair. (Why? Don't ask me! :laugh:)
11:00-11:40am
Balsam Fir and Sugar Maple switched doing

Word Builder

(spelling) on the computer and math facts on a free

Kindle Fire app

, and then Sugar Maple worked on her Science Notebook (comets) while Balsam Fir read aloud to me from Busy Times (

Pathway Readers

) and made "rainbow words" from words he missed. White Pine continued on with his history movie and Biology (until he fell asleep for 10 minutes and I woke him).
11:40-12:40pm My younger saplings headed outside for a romp through the snow AND mud, and let flock out to forage. (We free range under supervision.) I made BLTs with orange "smileys" and carrot and celery sticks for lunch, started the dishwasher and managed to poke myself twice with a steak knife, once on each hand. Talent! :wink: After lunch, I read aloud from Prince Caspian.
12:40-2:15pm
Balsam Fir ran upstairs to build with Legos again, and Sugar Maple made
banana bread
, watched "Liberty's Kids" (

Netflix

)(Revolutionary War) and practiced clarinet. White Pine finished up his movie and coloring and worked on plant adaptations and responses and invertebrates for Prentice Hall Biology and then "poop scooped" for me. (What a good boy!) I cleaned up from lunch, mopped, collected eggs, and started a load of laundry.
2:15-6:00pm
The saplings walked to the end of the road to meet White Pine's friend - I'll call him White Birch - as he got off the school bus and collected the mail. They played basketball with a soccer ball while the flock free ranged again, having banana bread for snack, before coming in for XBox football. Balsam Fir decided to be contrary and wanted SALAD and RANCH DRESSING instead, and watched "Top Gear". It's hard to argue with him when he's eating veggies! I hung laundry on the lines, made a Critter Sitter Care Card (for White Birch to care for our animals when we're gone) and
then sat down for a breather with my book and Hot Cocoa. Have you read
The Secrets of Mary Bowser
? Great historical novel! White Birch walked home. And I whipped up dinner: buttermilk biscuits, scrambled eggs, ham, steamed broccoli, and pineapple chunks.
6:00-8:00pm
Wind down time! The saplings caught dishes up for me while I was on the phone and reading e-mails. Then each of us went about whatever fancied us: video games, computer system research on-line, reading, SPINNING IN OFFICE CHAIRS, Facebook, patting the cat. Around 7:15pm White Pine and Sugar Maple locked the flock in for the night.
8:00pm-10:00pm
We watched "Survivor". Yes, it's not the most "wholesome" show, but we do find it interesting to watch. And then got ready for bed. Good night!