In My Life This Week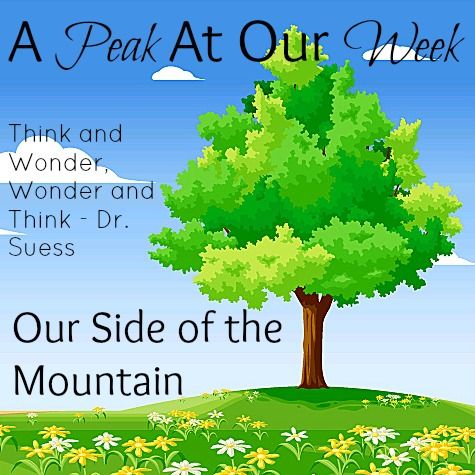 A slow, go-with-the-flow week! I
REALLY
needed one. I'm finding that I'm exhausted at the end of most days because I'm trying to fit so much into every hour - homeschooling, general housework, scratch cooking, outside work, household repairs, errands, finances, pets, shoveling, and an entire household declutter - that I'm needing some DOWN TIME. So, this week was about staying home and relaxing more.
SORT OF.
Homeschool High School
Have I mentioned how hard and focused White Pine works?
Well, most days. ::wink:: He
REALLY
does seem way beyond his 14 years when it comes to meeting his ambitious school goals. His days are long, but he delves right in and never complains.
Homeschool Elementary
Not much
CORE WORK
got accomplished this week. It doesn't mean that we "vegged" (although I'm thinking some "veggin'" isn't such a bad idea this weekend), but
LIFE HAPPENS
and you just
FLOW WITH IT
.
On Tuesday our buddies A__ (14) and J__ (8) spent the day with us while their Mom was running ragged from one stressful appointment to another. There was a lot of video game playing and all over kid chaos, but since
THEIR FAMILY
is going through what
MY FAMILY
is going through, well, it's nice for us to connect.
Did you celebrate Pi Day on Thursday? I've never planned a special March 14th with the saplings so I figured
WHY NOT.
We read learned about Pi from a

Education.com

worksheet, watched

History of Pi

, listened to a

catchy tune

, made

Pi circle models

, and whipped up a

minty "Lucky You" pie

for Pi Day
AND
St. Patrick's Day.
And then we spent the Friday morning learning about St. Patrick. Not so much the holiday or Irish traditions but about St. Patrick himself. My favorite book for learning about St. Patrick is Patrick: Patron Saint of Ireland by Tomie dePaola. (
Love dePaola!
)
We watched videos on The History Channel. And we made

Irish Soda Bread

for breakfast, but my saplings did not like it. ::sigh:: (It's a good thing we aren't Irish because they've liked
NO
Irish foods we've made.)
Today is also Sugar Maple's 11th birthday! She's getting way too close to those
TEEN YEARS
. ::sigh:: She wanted an ice cream cake with Neopalitan ice cream sandwiches, strawberry syrup and jelly beans to celebrate. I know. ::laugh::
As you can probably guess only Monday and Wednesday resembled anything like a typical school day
BUT THAT'S OK.
We've got 61 more school days to meet my goals!
Places We Went, People We Saw
♣ T__ Family
♣
Basketball (SM) ♣ Scouts (All) ♣ Educational Farm (BF) ♣ Lacrosse (WP)
♣
Clarinet/Band (SM) ♣ Birthday Party with Friends (All)
♣
Something to Share
I saw this on Facebook and got a
CHUCKLE
out of it. How about you?
As always, thanks for stopping by Our Side of the Mountain. I'm linking up to these
WONDERFUL
blog hops. Why not link up too!
And my friend over at

3 Crazy Monkey's

is doing a contest for a
FREE
Honey Bunches of Oats cereal coupon. Head over and get your entries in!