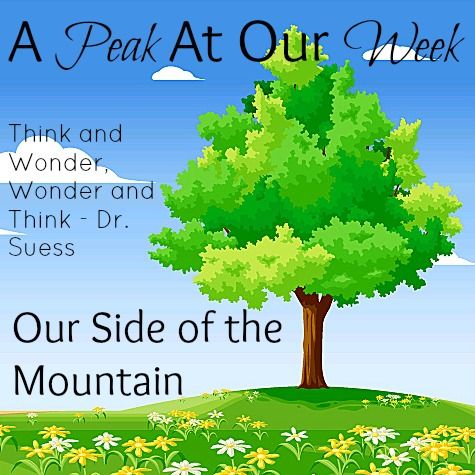 In My Life This Week
"Some changes look negative on the surface but you will soon realize that space is created in your life for something new to emerge" - Eckhart Tolle
Settling into our new
NORMAL
. Is there such a thing? I hesitate to share this with all of you, but it's such a
HUGE
part of my life now:
I AM A NEWLY "SINGLE" MOM
. Blue Spruce and I are living in separate "forests". But despite all the craziness of the past few weeks, my wonderful saplings and I are moving forward, just in unexpected and different ways.
Homeschool High School
Fun class, huh? White Pine added How Things Work from

Coursera

to his ever-expanding school schedule this week. Remember he started Computer Science 101 last week? (He decided to move on without me. Apparently I'm slowing him up? How can that be?) He's also still working towards his "core" curriculum goals! And he had Boy Scouts. Phew! It's no wonder he's crashing at night! But don't worry: he still found time for video games and planning to build a computer! ::wink::
Homeschool Elementary
Putting away Sugar Maple's Spectrum Writing workbook, letting her type up a story from her own creative mind, has worked out perfectly.
NO, THE WRITING ISN'T PERFECT, BUT WHAT SHE'S LEARNED IS!
With spelling such a challenge for her, Spell Check has helped her overcome a writing phobia. And she has 22 GREAT pages of story to prove it! Next? Illustrations!
She also spent an afternoon flipping through our

Birds of Maine Guide Book

, drawing birds. I think she's dreaming of spring! (
I KNOW I AM!
) But the cool thing is that we've seen an increase in our backyard birds in the last week: Black-capped Chickadees, Blue Jays and our lovely Mourning Doves are cooing from the woods again. When we see that first American Robin then we'll SPRING for joy! (Word play! Ha!)
Her drawings inspired Balsam Fir to write about birds in his journal, among other things.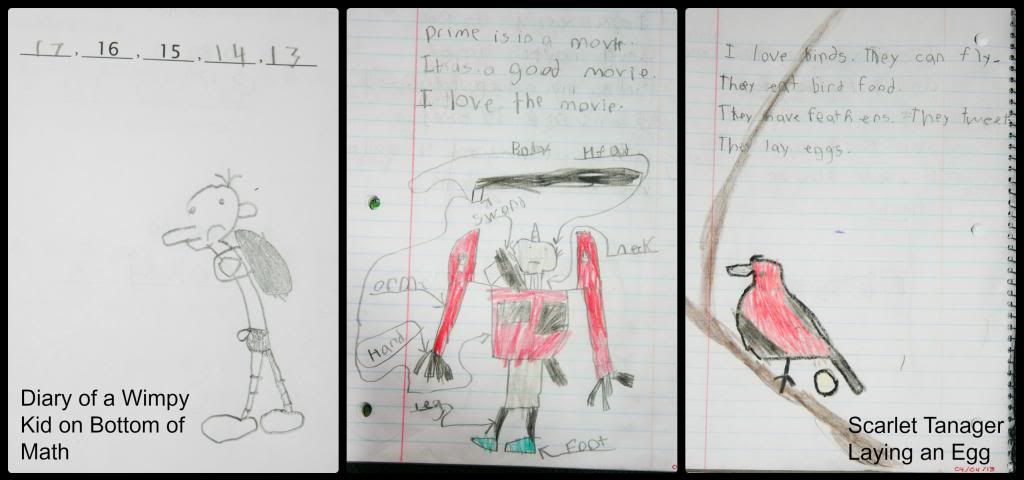 Then they assembled and painted tiny wooden birdhouses from kits. They're too small and flimsy for the outside, but they're cute decorations for inside!
Balsam Fir's moving along with Math-U-See Beta. True, it's a bit easy for him right now, but eventually he'll hit some new stuff. He'll just have a solid foundation in place value, addition facts and sequence, right?
THE KICKER IS THAT HE ENJOYS IT!
The blocks have made
ALL
the difference!
We read about Mohammad, Muslims, the Five Pillars of Islam, and the Koran this week SOTW. I can't say as it held their interest much, but we'll be moving on soon. To break up the chapters on Islam, we watched "The Dark Ages" on Netflix. I wouldn't recommend it for the younger crowd, but it was a good
VISUAL
history over the Middle Ages that we're studying now.
And Sugar Maple finished her A Beka Health body systems: Respiratory, Skeletal, Digestive, and Circulatory. Balsam Fir wrapped up his file folder game on The Water Cycle and started Simple Machines. Now
THIS
file folder game he liked! Machines and tools?
BF IS ALL OVER THAT!
And it helps that I have Lego Simple Machines building sets. ::wink::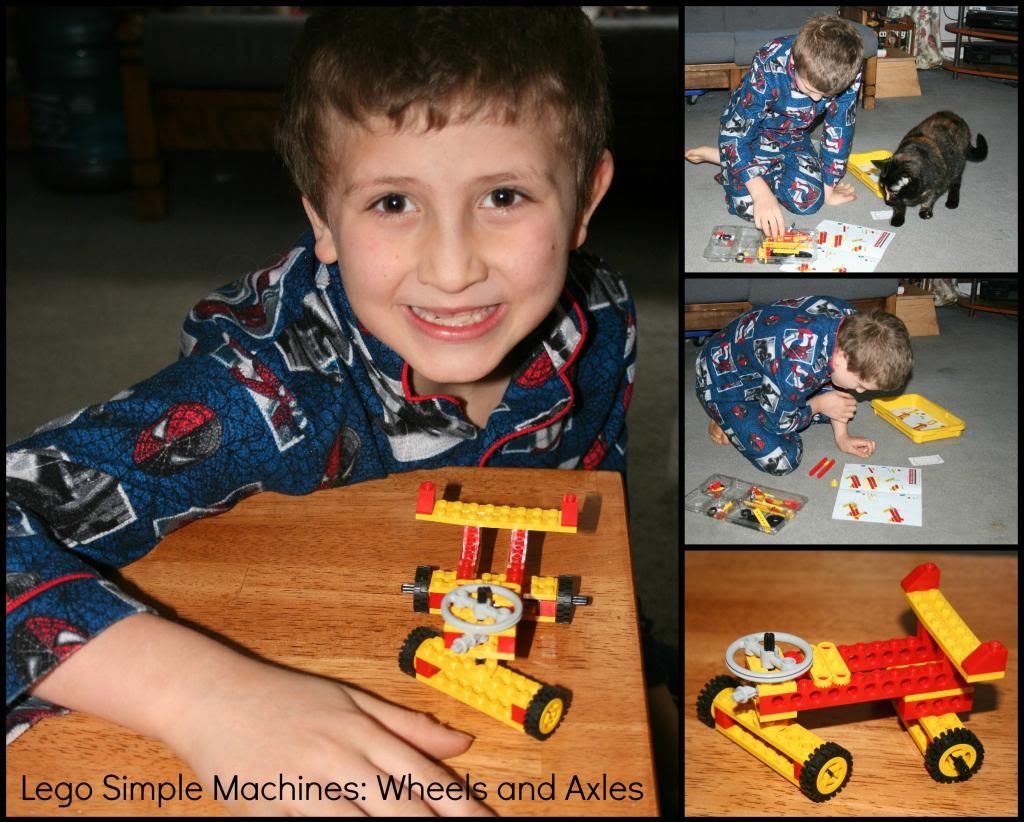 He's also
TOTALLY
into Transformers so he created some pretty cool (and
TRANSFORMING
) Lego ones.

All that and we still did did our "core" work such as math, language arts and spelling too. (And I'm posting this on Thursday night because my sister and cousin Noodle are coming tonight and staying through tomorrow so we're taking Friday off.) Phew!
Places We Went, People We Saw
☆ Hanging with Friends, Playing Board Games (All) ☆ Blue and Gold Banquet (BF) ☆ Scouts (WP/BF) ☆ Movies at the Library: "Wreck It Ralph" (SM/BF)
☆ Clarinet/Band (SM) ☆ Sister 3 and Cousin Noodle
☆
Something to Share
I'm glad you popped in this week! I'm linking up to these
WONDERFUL
blog hops. Why not join up too?