There's nothing like taking a hike when it's a brisk 24 degrees. ::shiver:: But why not, right?
We bundled up in hats, mittens, wool socks, and hooded sweatshirts, grabbed our backpacks, made a quick stop at the store for lunch fixings, and headed to Bald Pate Mountain Preserve.
Bald Pate Mountain Preserve has 486 acres of forests, meadows and granite cliffs, and a 1150 foot mountain summit. There are 6.7 miles of interconnected easy-to-moderate trails for hikers and skiers.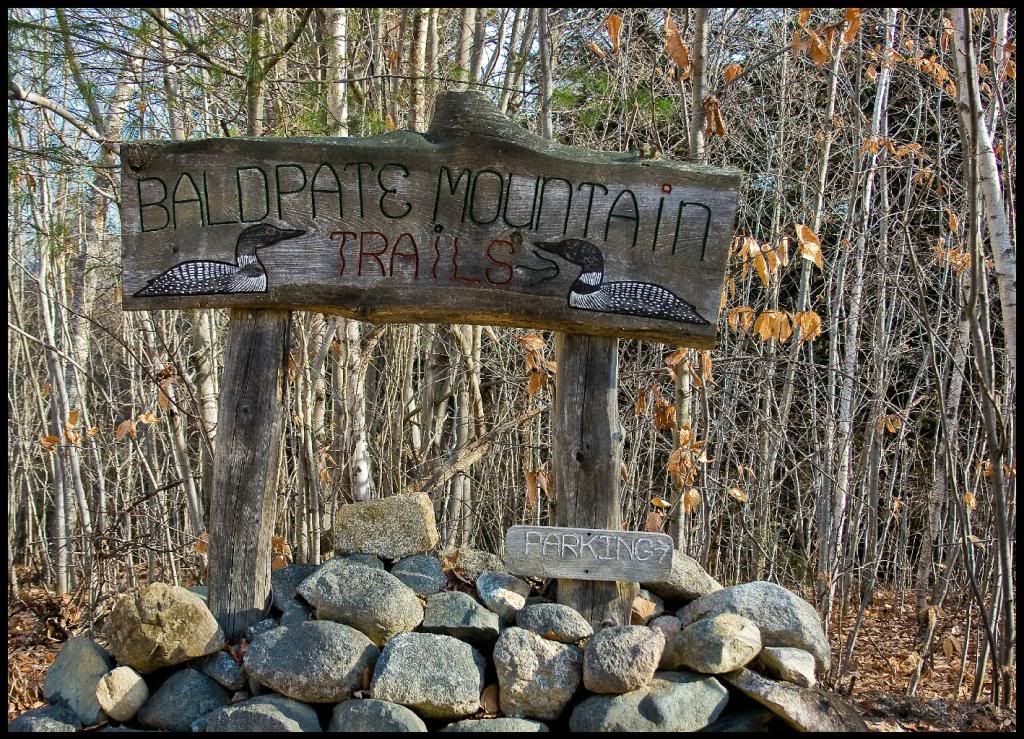 From the parking lot, we headed straight down the Bob Chase trail by the kiosk toward the summit (.8 mi). Here, we walked along a wide, root-riddled path with crumbling, frozen ground and lots and lots of brown, crunchy beech leaves. We could hear Black Crows over head and occasional chattering of squirrels. (Well, when the Saplings weren't making up new lyrics for "Rudolf the Red-nosed Reindeer" using "hamburgers" as the topic. Yep! That's my happy bunch! ::laugh::) The trail was an easygoing ascent through forest.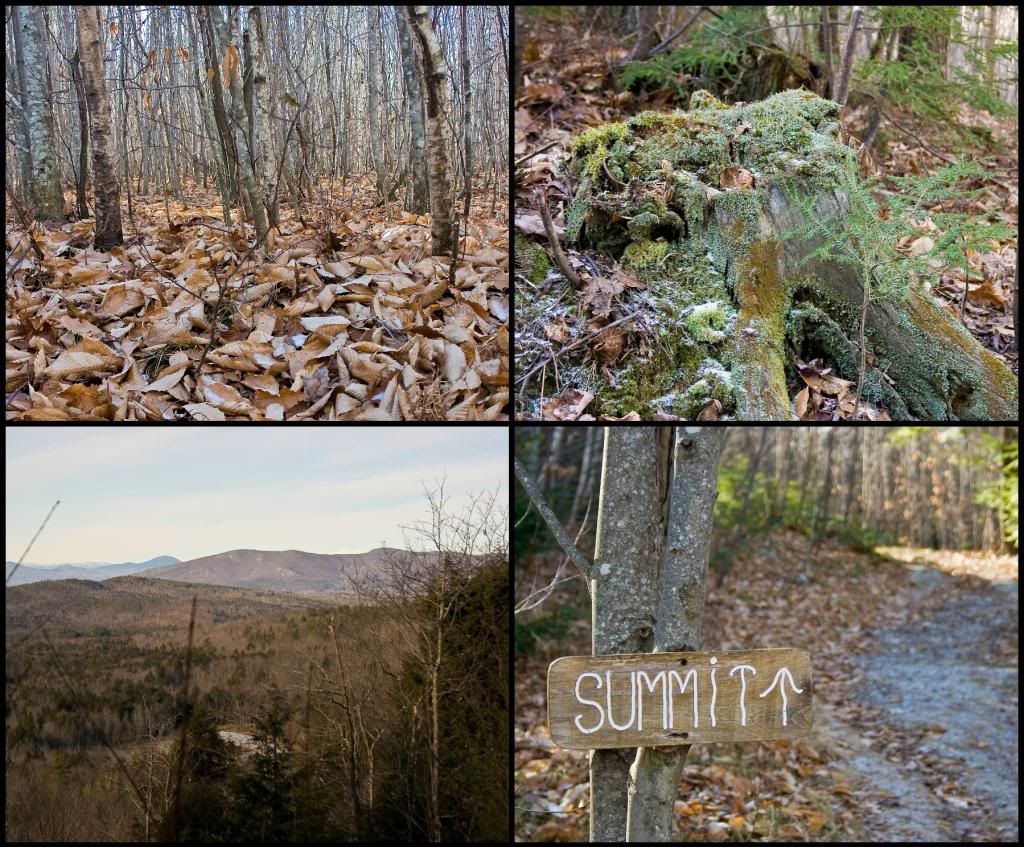 L. to R. (Top): Lots and lots of brown beech leaves and a moss-covered tree stump. L. to. R.
(Bottom): A mountain view and the sign for the summit
The view from the summit was beautiful! Lakes, mountains and forest for as far as the eye could see. The sky was winter-blue with lots of wispy clouds. But it was breezy and the cold air chilled us to the bone, so we had a quick lunch of granola bars, hard-boiled eggs and chocolate wafer cookies while exploring the top, and then we hiked on.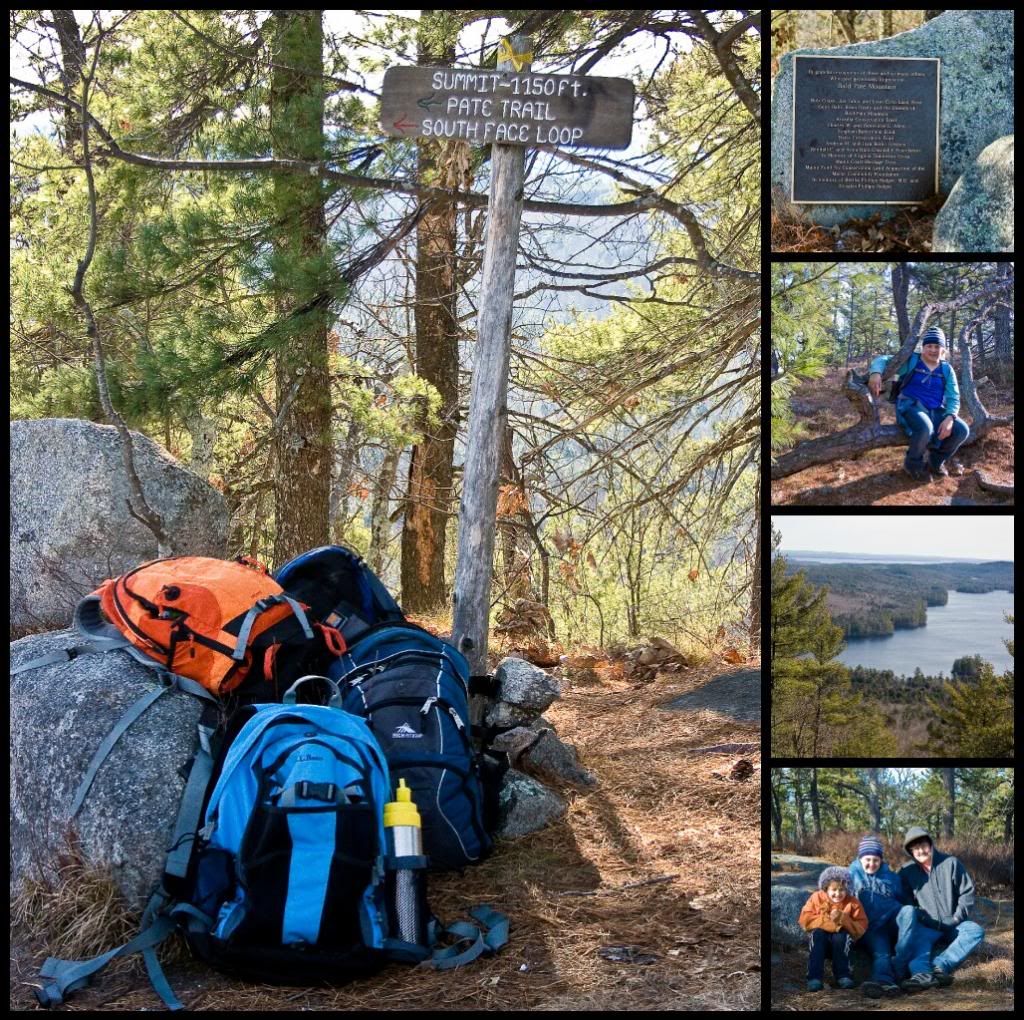 The Summit! Top to Bottom: Dedication plaque, Sugar Maple on a tree, a lake, and the Saplings.
We decided to head down the Pate Trail, thinking that it would be a quick one (.1 mi). How wrong we were! ::wink:: If only I had brought along our topographical map! (Hiking Hint: Having a trail map, particularly one with topographical information (elevation gain) , is very helpful in planning appropriate paths to follow with kids or for your physical condition.)
Soon after starting, we saw another sign, and we wondered what we would experience on this trail.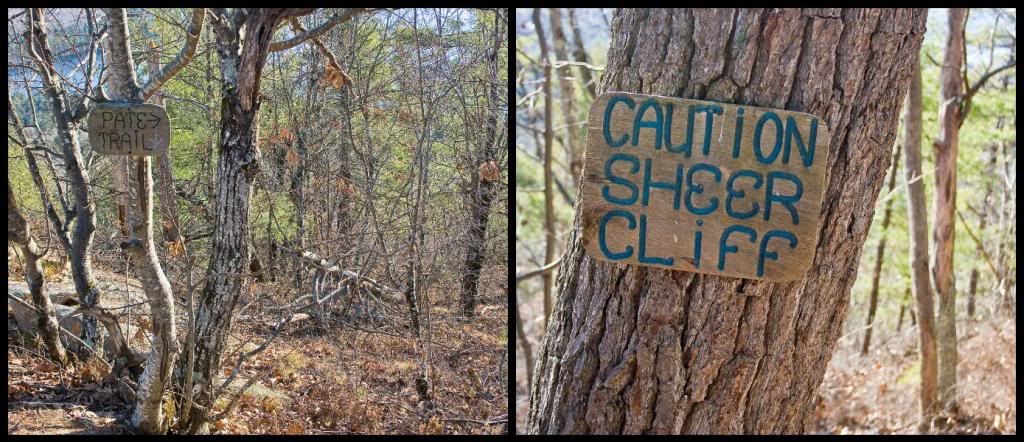 My legs are still achy 6 hours later from this one! Phew! The steep grade descent, all the granite boulders scattered everywhere and a layer of slippery beech leaves and pine needles made for a slow, careful trek. Balsam Fir thought it was a blast to slide down the leaves and needles like a water slide though.
(I hope his sweatpants come clean!)
Sugar Maple loved the challenge of jumping from rock-to-rock. But White Pine and I were more worried about carefully choosing our path and not sliding down the hillside. (Hiking Hint: Wearing good hiking boots help with terrain "grip" and ankle support, making hiking safer.) My Saplings exclaimed, "Best trail ever!" Of course! ::wink::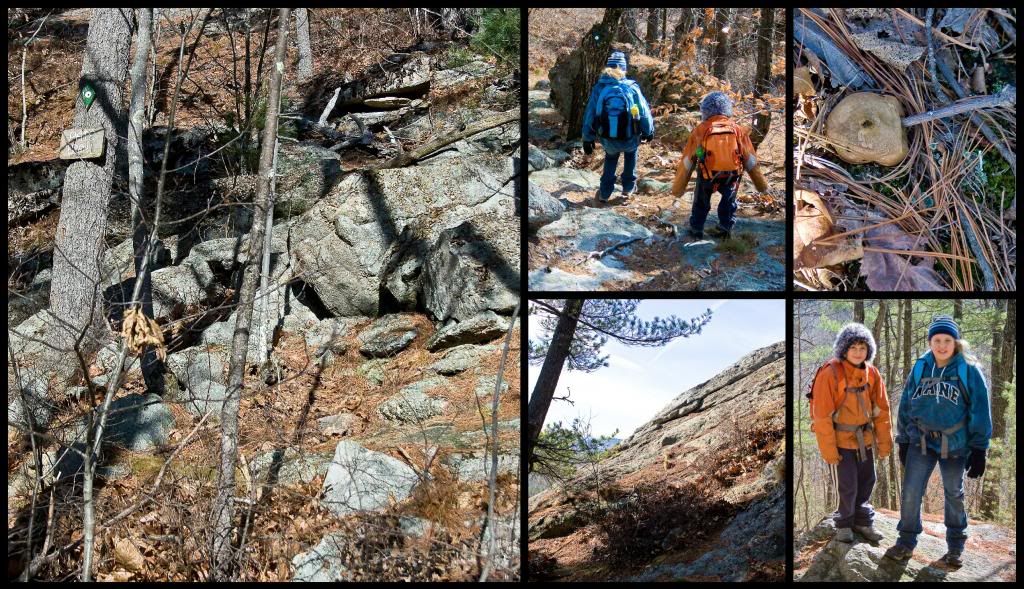 L. to R./Top to Bottom: That's the trail marker and trail among the boulders, Sugar Maple and
White Pine slip-sliding down, a Puff Ball mushroom, a sheer cliff, and Sugar Maple and
Balsam Fir on top of a boulder.
This trail ended and we turned left onto the South Face Loop Trail (.7 mi) towards the summit once again. There were switchbacks here and there, but also steep sections. Sugar Maple spotted a couple different old scat deposits - Don't you look for poo on hikes? ::wink:: - and we're guessing that they were deer and either fox or coyote. (I'll spare you the photos though unless...) We were dragging and rested for 15 minutes on the summit before heading back down Bob Chase (.8mi) to the kiosk.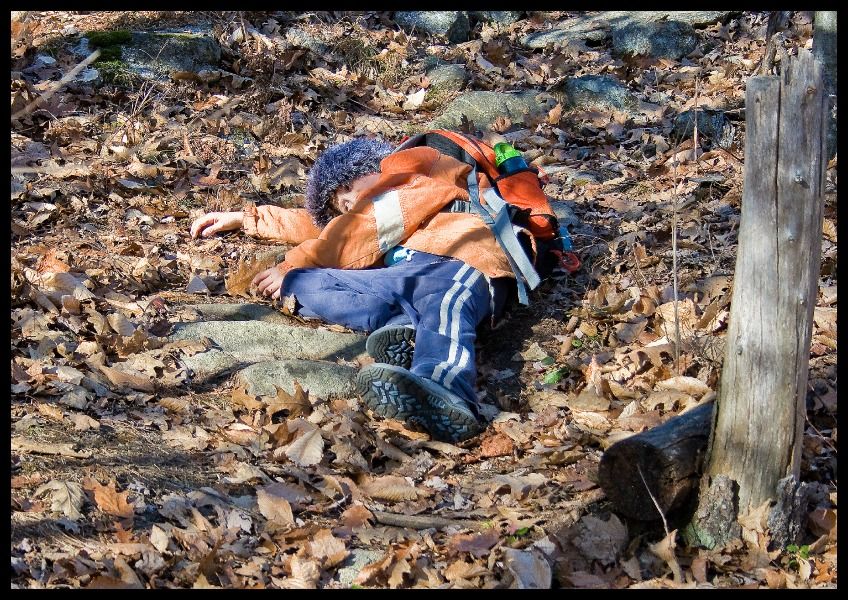 Balsam Fir taking a break
We only scratched the surface of the trails available at Bald Pate Mountain Preserve. We'll return again in the spring and see what else there is to explore. But in the meantime, we ended our hike with some mint hot chocolate from Dunkin' Donuts to warm up. Ahhh!