In My Life This Week
Poor Sugar Maple woke up Monday morning with a sore throat and coughing. She spent the day in bed watching Netflix movies on my Kindle, reading or napping. Fortunately she felt better after a couple of days and it doesn't seem like she shared with the rest of us. Yet.
What We're Cooking
French Fried Onion Meatloaf from Tilly's Nest! Meatloaf is such an easy dish to prepare, but it's also "blah". Adding dried onions and cheese chunks sure spruced it up for us!
Homeschool High School
White Pine assembled some really cool DNA strands

from colored construction paper that represented guanine, adenine, thymine, and cytosine nucleotides for a Genetics "modeling" lab. All those G, A, T, and Cs! But mostly he spent the week finishing up his learning goals for English and Algebra.
White Pine and His Paper DNA Models
Accomplishments
Dumas Persuasive Paper, Conrad Author's Profile and Approach Paper, Algebra: Solving for N, Biology: Genetics (DNA/RNA)
Homeschool Elementary
We wrapped up our volcano unit study. Sugar Maple and Balsam Fir put together their lapbooks, reviewed volcanoes and the rock cycle on StudyJams, and made an erupting volcano model. Don't forget to click here to see the creation of our volcano and 2 ways to make "lava" eruptions!

Balsam Fir was SUPER DUPER excited with Mt. Boom!
Top L. to R. Front Page of Lapbook and Back Page of Lapbook. Bottom L. to R. Center
Section with Flap up and Center Section with Flap Down
We finished a tad bit of SOTW on Ancient Greece: Minoans, Mycenaeans, Dorians. And, ahem, watched "Percy Jackson and the Olympians: The Lightning Thief". It's about mythology, right? ::wink::
Sugar Maple's Accomplishments
The Story of Helen Keller (Hickok), Personal Letter, Creative Writing, Writing Process, Idioms, Cursive, Volcanoes, Word Processing, Ancient Greece, Mapwork, Band Practice, Pasta Ornaments
Balsam Fir's Accomplishments
Little Bear (Minarkik), Creative Writing Notebook (Complete Sentences/Main Idea), Handwriting, Rounding Up, Subtraction with Borrowing, Volcanoes, Ancient Greece, Mapwork
For the Love of Books
With the movie "The Hobbit: An Unexpected Journey" coming out soon - or did it release already ::laugh:: - Blue Spruce dug up his copy of the book and I started reading it to the saplings. None of the saplings nor myself have read this book so it's a new "adventure" for us. Have you read it? I'm still undecided as to whether it's a good read ALOUD book or not.
With Our Hands
Fiori Pasta Snowflake Ornaments from Katy Elliot! Using pasta and Tacky Glue, we created snowflake shapes and let them dry. After 2-3 light coats of white spray paint, we "painted" them with Tacky Glue and covered them with silver glitter. Sparkly!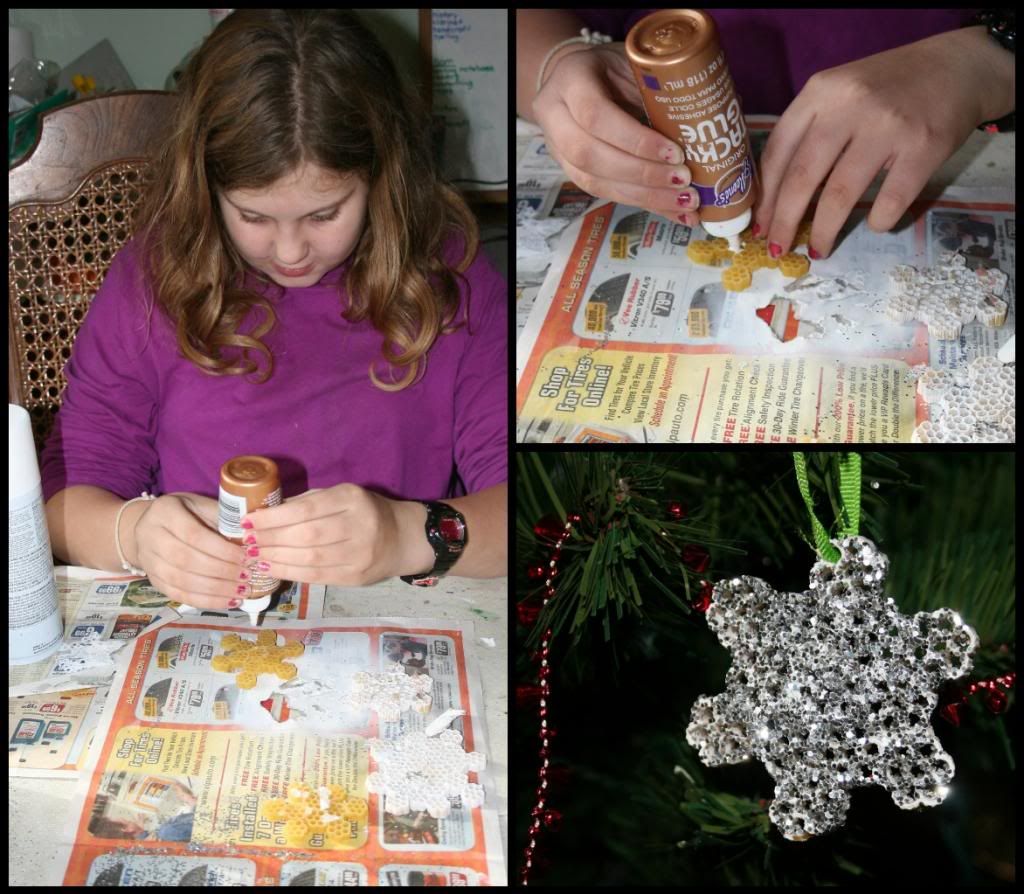 Sugar Maple Making Fiori Pasta Snowflake Ornaments
Places We Went and People We Saw
☃ Library (SM) ☃ Scouts (All) ☃ Band Concert (SM) ☃ Girl Scout Nursing Home Singalong and Holiday Party (SM) ☃ Boy Scout Camp In (WP) ☃
Helpful Homeschool Hint
Having maps for Geography is a great resource to have! Not only do we label places and landforms, but we also jot down historical notes.

Tying events to places can be a very powerful learning tool!

Education Place has some great, but simple outline maps to print out for free!
Around the 'Net
☃ Advent Christmas Lanterns from The Tiger Chronicles
☃ Gift Boxes and Envelope Templates to Print Out and Assemble from Katilbalina
☃ Printable Paper Grinch from The Flying Dachshund
Well, that's a wrap! I've got a few more posts lined up for December so don't forget to come back. Linking up to these fun blog hops! Click over and check them out! Merry Christmas and Happy New Year!