A swaying hammock on a sunny, warm spring day with a pleasure book and a sleepy lil' Welly on my belly. :sigh: Doesn't that sound good? Oh, a Welly? Welsummer, one of our 7-week-old chicks. Nutmeg seems to
REALLY
enjoy our quiet time. I've found that it's
VERY IMPORTANT
for me to have these moments. Oh, the kids are around of course, playing in the tree house or scootering around the driveway, but 30 minutes in the afternoon of quiet relaxation is just plain ol'
WONDERFUL
.
On the Dinner Menu
• Turkey Kielbasa with Long Grain Rice and Steamed Peas and Carrots • Homemade Deep Dish Pizza • Spaghetti with Meat Sauce and Steamed Beans
• Baked Chicken with Rice Pilaf and Steamed Carrots
•
Homeschool Happenings
What school? Just kidding. (Sort of.) :wink: It never fails that this time of year our focus just isn't there. (I've already posted this, haven't I? :laugh:) With only 25 days left in our year, subjects wrapping up, and the spring weather, well, we've got other things on our mind. You know, more important things, like searching for earthworms in the garden or jumping pot-holes with bikes or rounding up the ducks as they stroll down the dirt road. (Yes! Suddenly our quackers like to take walks!)
But Cati and Sam DID work on their Math and Reading. Cate's getting close to finishing Saxon 65. She's counting down the tests! :laugh: I'm sticking with easier readers for Sam to work on some missing phonetics and blends. And hopefully building his reading confidence. Together we're reading about and mapping the Bubonic Plague in Europe and Joan of Arc in Story of the World.
And Jake? He delved into his first ever English term paper comparing Union and Confederate Civil War battles! There's been a pile of library books and an open notebook on the sectional all week. But he did manage to get some Algebra, World History and Biology in. Who am I to stop him from spending hours learning about the Civil War? Go, Delight-Directed Learning!
Oh, and speaking of delight-directed learning, I downloaded

How to Draw 1-12 Collection

onto my Kindle Fire when it was offered for
FREE
...and she's really delved into it. This week she focused on cartoon birds. Aren't they cute?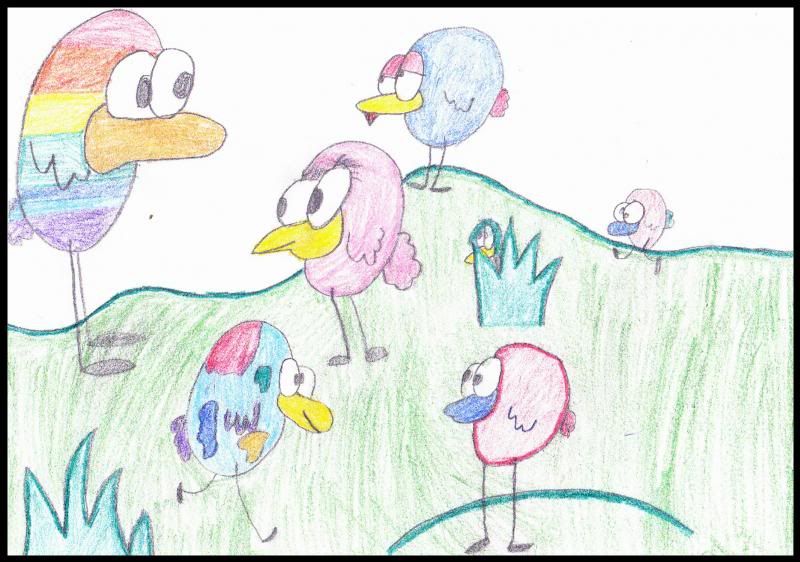 Places We Went, People We Saw
• Softball (C) • Scouts (J/S) • Clarinet/Band (C) •
When I saw this on Facebook I had to laugh. :grin: That's
TOTALLY
like my Sam - shoveling snow in shorts and a t-shirt! I don't think he can feel cold! :shakes head: And the quote is so true too, don't you think?
As always, linking up to these
WONDERFUL
blog hops! And come back on Monday to see my Question-of-the-Week.