Between every two pines is a doorway to a new world.
-John Muir
In Our Life This Week
Ready for more van adventures? ::sigh:: Would you believe that BOTH my headlights burned out at the same time? So, I googled how to replace them and off to VIP Balsam Fir and I went.
And yes, my 7-year-old did some most of the work for me.
It's nice to have a mechanic in the house!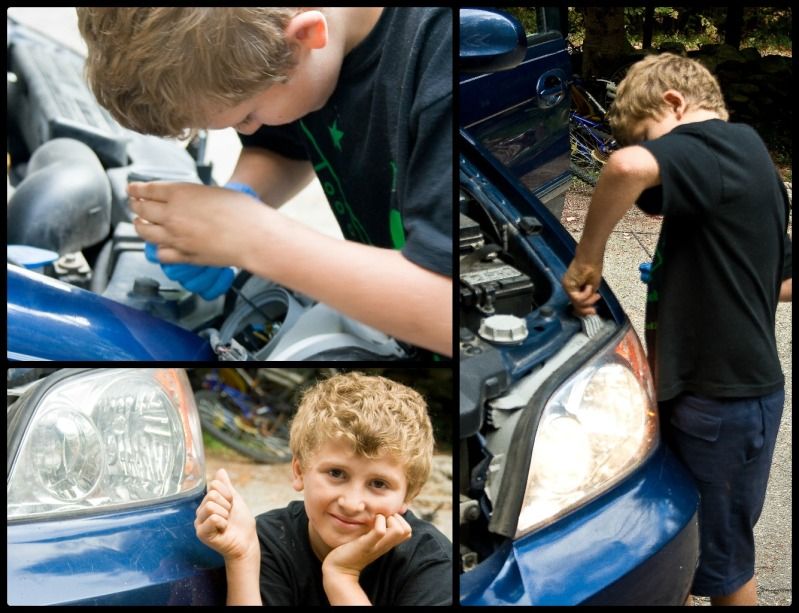 Oh, and if you're wondering why Balsam Fir is wearing a blue latex glove, well, it's because you can't touch headlight bulbs with your bare hands. The oils in our skin will either blow the bulb or shorten its "life".
The things you learn, huh?
Homeschool Elementary
In Botany this week we learned about pollination and started to fill out a mini book from Homeschool Share, and watched You tube videos from Make Me Genius and We Love You Mr. Bee. And continued to observe our bean plant inside our Plant Box Maze and watch phototropism in "action".
Story of the World? Child's History of the World? I was able to get a copy of CHOW from a friend last week, so
this week I started reading it aloud to the Saplings to let them decide between the 2 books.
Their verdict? CHOW! SOTW! Yep! One likes CHOW; one likes SOTW.
How do I choose which to continue?
This week's handicraft project was drink coasters. Now, I can't share photos because they're Christmas presents for family members who may be reading this. If you'd like to see what we did, click
here
, but not family, OK?
Sugar Maple
★ English - Percy Jackson and the Lightning Thief (Riordan), Spelling with Samson, Cursive, Vocabulary,Compound Words, Synoyms, Summary/Outline, Personal Narrative
★ Math - Multiplication Table, Horizontal/Vertical/Oblique Lines, 3 Factor Multiplication, Timed Multiplication Drill, Test 2
★ Botany - Pollination (Self/Cross/Animal/Man/Nature)
★ World History - World Geography, Stone/Bronze Age
★ Extras - Girl Scout Bake Sale, Handicraft, Soccer, Clarinet/Band, Baked Tollhouse Cookies, Spanish, ZooWhiz, Gardening, Presidential Debate
Balsam Fir
★ English - Nate the Great and the Snowy Trail (Sharmat), Plural Nouns, Spelling with Samson, Handwriting, Combining Sentences with AND
★ Math - Missing Addends, Charts, Measurement (cm/liters),
★ Botany - Pollination (Self/Cross/Animal/Man/Nature)
★ World History - World Geography, Stone/Bronze Age
★ Extras - Cub Scouts, Handicraft, Soccer, Van Repair, Spanish, School House Rock CD, "Mighty Machines" (Netflix), River Crossing Game, Origami
Homeschool High
White Pine and I had a goal-update meeting this week. (It's really neat to be discussing school this way
WITH
him!) We set goals before school started based on our required number of school days and the lessons in his textbooks. He happens to be a little behind his goals in English and Math, quite a bit behind in Biology, and right on schedule for World History. So, we made some adjustments to get him caught up.
It was a "buckle down" week for him!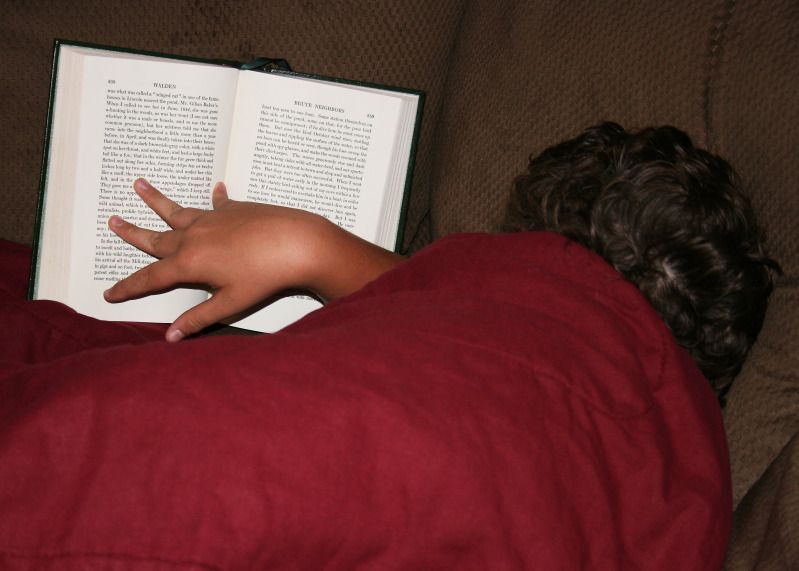 ★ English - Walden (Thoreau), Approach Paper, Author Profile, Creative Writing Essay
★ Algebra - Test 2, Surface Area, Angles
★ Biology - Chapter 3 Self-test, Biosphere, Ecology, Cycles of Matter, Properties of Water, Biomes, Greenhouse Effect
★ World History - African Religion/Culture, World Geography
★ Extras - Soccer, Boy Scouts
Something to Share
October is Sensory Processing Disorder Awareness Month. Our Balsam Fir has SPD and every day can be a challenge to experience life without being overwhelmed. Read his
SENSATIONAL
story here or find out more about SPD here.
Well, that's a wrap from Our Side of the Mountain! Thanks for stopping by! Check back later this weekend to read about our Friday Field Trip! Have a great week!