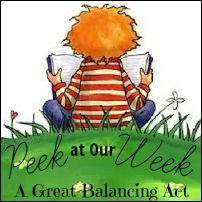 In My Life This Week
::sniffle:: ::sneeze:: Cold? Seasonal allergies? Not so sure, but I
AM
sure that I'm going through an awful lot of tissues. It's not slowing down this Mama though!
This week I focused on
WORK ETHICS
with the kids.
I'll admit that I'm not the most consistent with discipline, but there are some things that need to be learned and learned well.
Oftentimes I find myself redoing chores that the kids are responsible for because they're poorly done.
Do you find sometimes that it's just easier to do it yourself?
It doesn't instill
GOOD WORK ETHICS
in kids though. We had some
LONG, LONG
days of redoing chores to completion - *I'm* exhausted! - but I think they get it. I hope!
Things I Worked On
✶ Cleaned Baby Pine Trees Out of the Rain Gutter ✶ Replaced Broken Light Bulbs ✶ Dug up Potatoes ✶ Tried to Fix the Motion Sensor Lights ✶ Words with Friends
✶
We're Cooking
MORE
apple crisp? I tweaked totally changed up the Barefoot Contessa recipe found

here

because it seemed like way too much work for apple crisp. All those ingredients! Lemon AND orange zest? And way too much sugar! Our recipe only has 2/3 c and we didn't miss the other 1 1/3 c!
Apple Crisp
Slice, core and peel apples to fill a non-stick sprayed 13x9 baking dish
1 softened stick of butter
Sprinkle on top of the apples and gently pat down. Cook at 350 degrees for about 45 minutes or until apples are soft and bubbly. Serve warm or cold.
Oops! I forgot to take a photo.
High School Happenings
What went on at the STEM school? Measured acceleration of an object due to gravity using formulas. Learned to chart information in different ways. Spoke and wrote Chinese. (I'm thinking he should JUST write Chinese characters because it's MUCH neater than his English penmanship.) Pendulums. Designed an on-line portfolio blog logo. Worked on a photojournalism project. Played Tic Tac Ten. Worked on interviewing someone important in the community (which he recorded on his cell phone).


Homechool Happenings
Cati learned about

Punnett Squares

in Life Science this week, and dominant and recessive

alleles

, and

phenotypes

and

genotypes

. Do you remember those squares with upper- and lowercase letter combinations to explain why someone has brown or blue eyes? (If the rolling of her eyes are any indication, Genetics and Heredity aren't her favorite parts of Life Science.) Using blue and white dice, she completed a multi-step Skill Lab over the course of the week to learn about allele combinations, creating her own Punnett Squares.
Sam didn't complete this lab with her. His focus was on Biomes, particularly the tundra and desert. Some concepts he just isn't ready for.
But he did create a castle on Minecraft. I finished reading aloud the

Knights and Castles

research guide that goes with

The Knight at Dawn

Magic Tree House book. (It's amazing how much reading gets accomplished sitting in the van during Cati's band practices.) He finds the Middle Ages interesting, and that interest makes for some meaningful learning.
Next week he's working on a
VIDEO PROJECT
over Knights and Castles that I hope to share with you. Cross your fingers that I can figure out how to record it with Cati's camera!
I'm not sure if I will continue the NROC U.S. History with the kids. There's nothing specifically wrong with it, but I don't feel Cati and Sam are gaining enough knowledge from the lessons. Perhaps we'll switch to

"America: The Story of Us"

and

"How the States Got Their Shapes"

for a while. We need some "life" in our history!
Highlights
✶
The Throne of Fire (Riordan) (C) & The Knight at Dawn (Pope Osborne) (S)
✶
Daily Grammar - Prepositions (C)
✶
Easy Grammar - Days 13-16 (C) & Days 13-18 (S)
✶
Poetry Unit Study - Haiku & Tanka (C)
✶
Spelling Power - List 19 (C) & List 9 (S)
✶ Saxon - Lessons 27-29 (C) & Math-U-See - Test 9, Lesson 10A-D (S)
✶
Life Science - Chapter 3: Genetics/Heredity (C) & Chapter 7: Tundra and Deserts (S)
✶
NROC U.S. History: Lesson 16-17
✶
Extras: Biking, Hiking, Kayaking, Cooking Meals, Animal Care
People and Places
✶ Drive-in Movies (C/S) ✶ Boy Scout Camping & Kayaking (J) ✶ Girl Scout Bake Sale (C/Mom) ✶ Cub Scout Popcorn Sale (S/Mom) ✶ Jazz & Concert Band (C) ✶ Cub/Boy Scouts (J/S) ✶ Open House (J/Mom)
✶ T__ Lake
✶
Wonderful warm weather! So, we loaded up the kayaks, packed up a lunch and headed to the lake for some paddling. It won't be long before paddles are replaced with shovels!
We saw a pair of Great Blue Herons up-close. The herons kept flying over our heads as we paddled through the shallow inlets. I didn't have my dSLR with me. As the family member voted most likely to flip a kayak, the camera is safer on-shore. :wink: But this photo I snagged on-line.
Please note copywrite. Photo by Coleta Air & Space Museum
As
ALWAYS
, linking up to these
WONDERFUL
blogs: