In My Life This Week
It was a
VERY SLOW
week for us. A week spent bike riding, taking the dogs for a walk, chasing ducks back into our yard, playing Minecraft, watching shows on Netflix, and reading.
Oh, and I finished shopping for our trip north and have piles of clothing and shoes scattered around my bedroom. I'll be stuffing suitcases soon.
Things We Worked On
Jake and I removed the metal tub "pond" from the run this week. Our Princess Pekins decided that they were
NOT
going to swim in it. :sigh: Our plan was to put the old sandbox back in, but we cracked it in the process. What to do now? Ah-ha! I decided to flip over the lid to the sand box! It has a "shallow depth" ledge around the top and a deeper middle! Perfect in case another hen ends up in the pond and struggles to get out. (Poor Big Rhodie! We're thankful we found her in time as she was utterly exhausted.)
What's Cooking?
I made a
BIG
pot of alphabet soup this week. (Find the recipe

here

.) I tweaked it just a
TEENY TINY
bit. :wink: I cooked up a 1/2 pound of ground turkey (because it needed using) with oil, garlic and onion, and then everything else I added right into the same pot. No cooking the pasta or the potatoes separately. Who wants to do any more dishes than they have too, right? Oh, and I didn't exactly measure anything out either..and I used frozen veggies. But the result was a GREAT soup, served with homemade bread!
People & Places
• Lake Swimming • B__ A__ Director Meeting•
Homeschool Happenings
Jake and I met with the director of the new STEM (Science, Technology, Engineering, and Mathematics) high school he'll be attending this year for 9th grade. Although the building's remodel is a
LONG
way from completed, the director answered our questions and showed us around.
B__ A__ should be a
GREAT
fit for Jake!
And Sam continued to learn lawn care. Soon, he'll be able to take over all the mowing and weed whacking. He's
QUITE
serious mowing...unless I ask him to stop and smile! LOL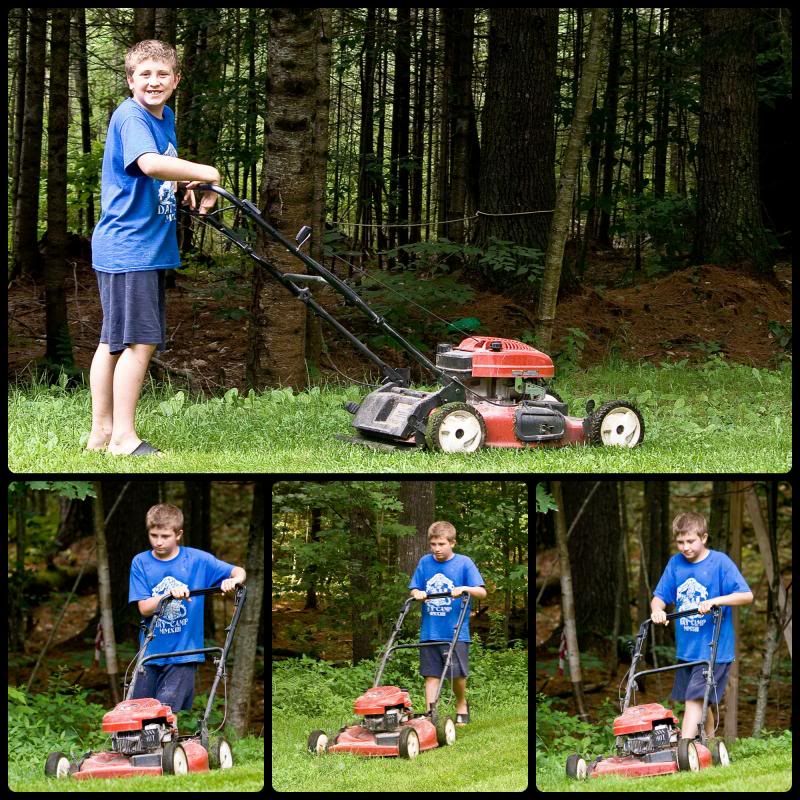 ...Amazon for replacing my Kindle Fire for charger port issues again. They're awesome! Now, we'll have our Kindle for our trip! (But will we have time to read?)
As
ALWAYS
, linking up to these
WONDERFUL
blogs: