We live surrounded by evergreen and deciduous forests: fir, spruce, pine, oak, maple, beech, and birch.

Trees make for such wonderful, creative play structures.

And although I wasn't too too pleased seeing that Sugar Maple and Balsam Fir "tipped" (i.e. broke ends off branches) some firs to make a tee pee shelter in the middle of our yard, I was impressed with their ingenuity and and resourcefulness.
They started out by scrounging some rope from the garage and collecting fallen tree branches from the back yard. Then, using a method they watched on Netflix's "Man, Woman, Wild"
they bound the branches together then flared out the ends to create a free-standing tee pee-like structure with a wide "door".
They collected "tips" of fir trees around our property and
covered their structure with boughs
until few holes were visible. And finished off by gathering some granite rocks and creating a "pretend" fire pit.
But they decided it wasn't a PROPER camp, so they made a 2nd smaller tee pee and moved the fire pit over, building a "hanging pot holder" over it for "pretend" cooking. It's a whole tee pee "town" now!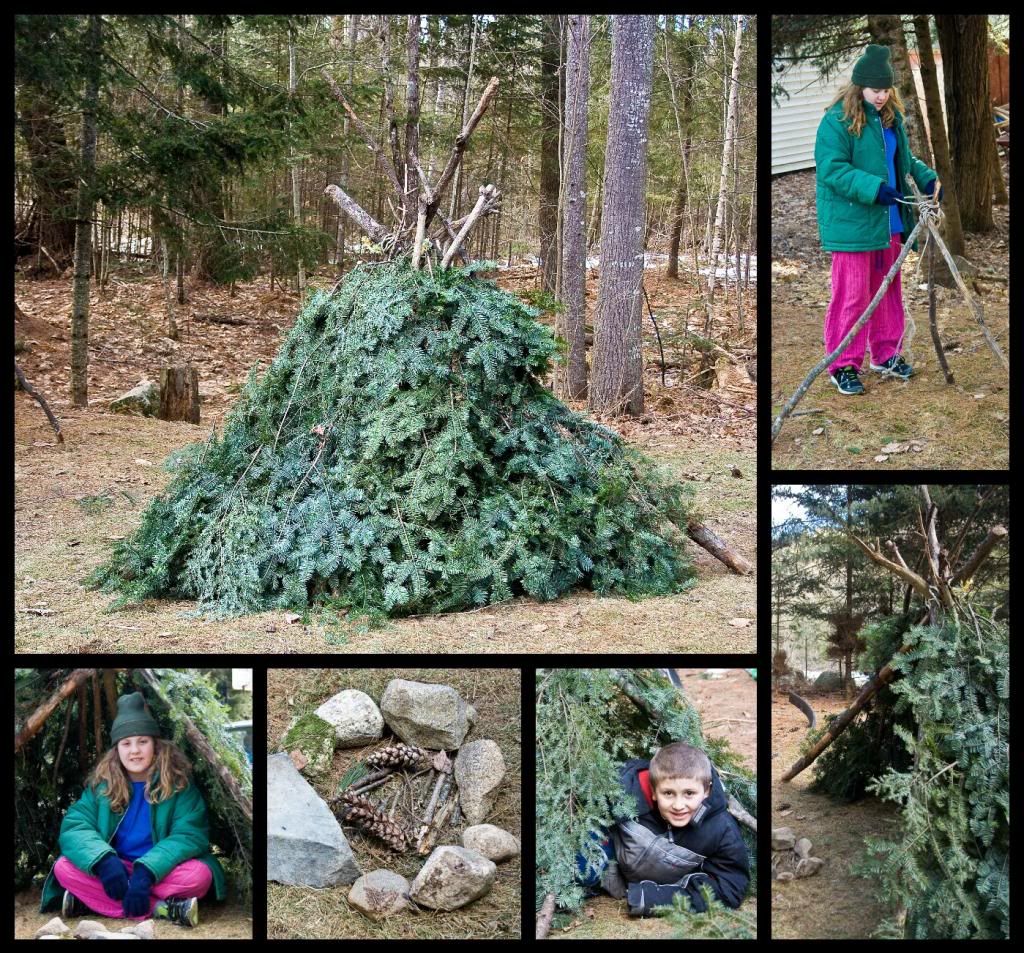 Unfortunately I don't have many "in progress" photos to share with you as they did this early one FRIGID, but sunny morning before starting school work. While they were "tipping", I was getting the washer going, making bread, vacuuming, and feeding/watering animals. ::wink::
But they were super excited to show me their tee pee shelters, saying, "Now we can get out of the cold!"
Yeah, it's been a COLD winter! ::shiver::
Notice all the brown ground? dried brown leaves? Not anymore! On Friday we were hit with the biggest SNOWSTORM of the season. And the saplings had to get out in THAT too! But I'll share those explorations next hop! ::grin::