In My Life This Week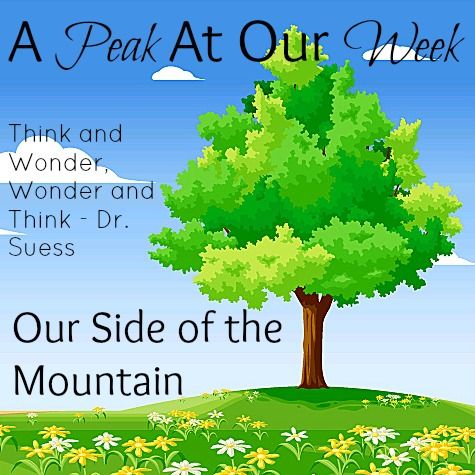 Did you see on my sidebar? That Explorers button? Yeah, I'm having my very own blog hop! Something nature-y and outdoors-y each week. With the help my of my friend Nicole from

Blessed Little Homestead

, the button "bugs" were finally fixed (I hope). Have you been doing something out-of-doors? nature studies? with your kids? Link up on Sunday!
My Favorite Thing This Week
Brag time! White Pine was elected as a Patrol Leader for Boy Scouts this year. I'm quite proud of his Boy Scout accomplishments over the years, and it's something that he gets a lot of enjoyment and practical skills out of. Well, the Klondike Derby was on Saturday and he was selected to be SENIOR Patrol Leader for the event!
Homeschool High School
Sadly, White Pine's SketchUp enrichment class at the new charter high school wrapped up this week. He really enjoyed this class! (Sugar Maple has taken an interest in SketchUp, so he spent some time teaching her to use the program as well.)

Now, to cross our fingers that he'll be accepted in April to start in the fall as a full-time student.
Accomplishments
The Country of Pointed Firs, Cather and Orne Jewett Author and Approach Papers, Algebra Test (95%), Exponents, Fungi, Cladograms Lab, Protists, SketchUp
Homeschool Elementary School
Out with Chemistry and in with Health and Science Folder Games! Chemistry fizzled. Not that my saplings didn't learn anything - they have a good understanding of states of matter, elements and the 3 parts of atoms - but it was time to move on.
We headed back to Ancient Rome, learning about Julius Caesar and his climb to Roman consul and power. The saplings, especially Sugar Maple, will remember the date he was killed: March 15, 44. Her birthday is March 15!

But the big news is that next week we start Story of the World Volume 2 and the Middle Ages!

Which means I better get going on printing out the timeline cards! Yikes! (Interested in timeline cards? Head over to All Things Beautiful's History and Geography Meme here!)
I found this really cool

website

with FREE video piano lessons for kids, so Sugar Maple and I have been watching the videos and playing on the new keyboard she got for Christmas. We're having a fun time learning together (even if I can't carry a tune)!
Sugar Maple's Accomplishments
Lots of Trixie Belden books, Creative Writing (Computer) (2500 words), Sequential Spelling Days 47-49, Spelling Flash Cards, Fractions,

XtraMath

(Subtraction), Health (Heart), Ancient Rome (Caesar/Augustus), Clarinet, Piano (Lessons 1-3)
Balsam Fir's Accomplishments
Flat Stanley, Lionel in the Spring, Writer's Notebook (Capitals/Complete Sentences/Spelling),

Word Builder

, Money (Coins/Paper) (from

Education.com

), States of Matter, Ancient Rome (Caesar/Augustus)
Books, Books, Books!
We're still reading Minn of the Mississippi...and I can't say as I like Hollings any better, but the kids have enjoyed it. ::wink:: I'm reading aloud Diary of a Wimpy Kid: The Last Straw to Balsam Fir before bed, sometimes. He's SO into
them that he asks me throughout the day to read to him.

He's never been one to listen long to books so this is exciting!
Places We Went, People We Saw
☃
Basketball (SM/BF)
☃
Klondike Derby (WP)
☃
D__ and T__ Stayed Over
☃
Scouts (WP/SM)
☃
Play: Hound of the Baskervilles (Comedy Version) (All)
☃
SketchUp
(WP)
☃
A__ Visited
☃
Clarinet (SM)
☃
Something To Share
Thanks so much for stopping by Our Side of the Mountain! We're linking up to these blog hops!