One of our most favorite places to explore is Acadia National Park on Mount Desert Island. It's especially awesome in late fall when the tourist season is over, the days are crisp and the trails unpopulated.
It's such a perfect time to get out and enjoy some nature!
So, despite the dark gray overcast skies with only rare glimpses of the sun, we drove to the park and meandered up the summit of Cadillac Mountain.
Cadillac Mountain is 1532 feet high and the first place in the U.S. to see the sun from October 7th to March 6th. Pretty neat, huh?
The mountain is composed of pale pink and gray granite and covered with evergreen forests, wild blueberries, and gnarled subalpine plants at the summit. A .3 mile easy trail encircles the summit and provides dizzying views of the ocean and Mount Desert Island.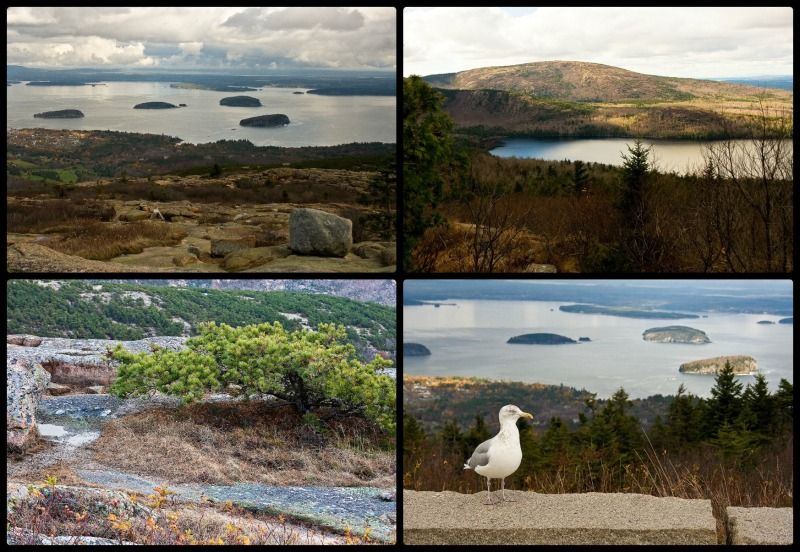 See the seagull? It decided to have lunch with us! Even though we hopped into the van after a few minutes to warm up (because it was NIPPY on top and we weren't prepared with warmer jackets), it stayed around and watched us, hoping for scraps of, well, anything!
(I have an NO FEED WILDLIFE rule though.)
After Cadillac Mountain, we meandered around the Park Loop Road and decided to stop at Jordan Pond and walk the 3.3 mile easy-to-moderate trail there. This path winds around Jordan Pond on a wooden boardwalk, through and over granite boulders, over a wooden bridge, and through the forest with views of the Bubbles. North Bubble is 872 feet high and South Bubble is 766. We can't wait to bring our kayaks here!
Doesn't it look peaceful?
So, we started left of the trailhead (at the lower parking lot) and went over a small stone bridge with clear water rushing under and then walked on the boardwalk through the swampy forest, and finally "bouldered" (i.e. climbed) through the jumbled granite rocks. Do you have young kids? Such a perfect walk for kids! Varied, but not difficult terrain! We compared tree barks of young and old trees of the same type, found bracket fungi and other common New English mushrooms, and some cool, papery-looking lichen.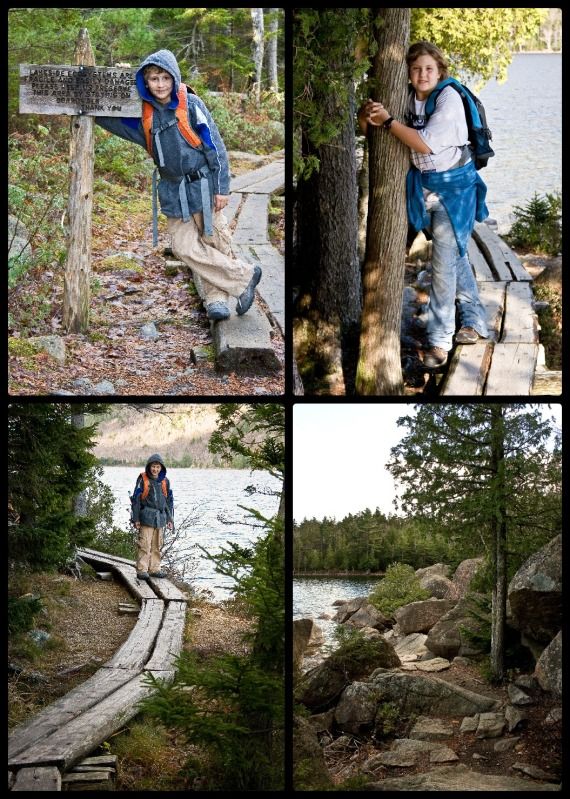 That bottom right photo - that's where we did our "bouldering". Believe it or not there's a trail that winds through those rocks! It requires a little motor planning and climbing and jumping, but totally doable and fun for kids to explore. I suppose most wouldn't really refer it it as "bouldering" because it's not that challenging, but that's how we like to refer to it. And "bouldering" sounds more interesting than "climbing". ::wink::
After a brief break at "Beaver Bridge" for a snack of crackers and cheese and exploring, we walked along the groomed trail through the forest. This part of the trail is easier to wander along as it's on packed, level ground. But Hurricane Sandy brought down some birches and a large pine that we had to climb over and around. The pine's trunk was already half chewed through by a beaver and totally blocked the trail. We had hoped to see a beaver, but they mostly come out at dusk or night-time...and, well, my bunch can be a little loud talkative during hikes. We did see a squirrel in the trees though, and a lone black salamander in a small pool of water (who should be preparing for winter already).
As we wound back around to the trailhead, we noticed the changing light as the sun moved lower in the sky and then heavy, dark clouds moved in again as the winds picked up. Brrr! We walked over a stone bridge with the water bubbling through from a wheaten-colored marsh area, and then up the hill to the parking lot.
Where should we go next?!