In Our Lives These Past 2 Weeks
Busyness, change of plans and sadness! Our vacation week started with despair. And although I won't get into this on my blog, our family is grieving the loss of a special loved one who will always be in our hearts.
And then we prepared for "Frankenstorm", a weird combination Nor'easter with hurricane Sandy that hit New England Monday and Tuesday.
Our original plan to head to the island last Tuesday and visit Grandpa and Nannie Lobster and cousin Noodle was nixed, and we stayed put and rode out the rain and wind.
It's comforting to say that returning to school this week has been pretty uneventful, except for coming down with colds, and
ALMOST QUIET
.
Phew!
But
THIS
showed up overnight on Thursday. ::sigh:: Winter has arrived!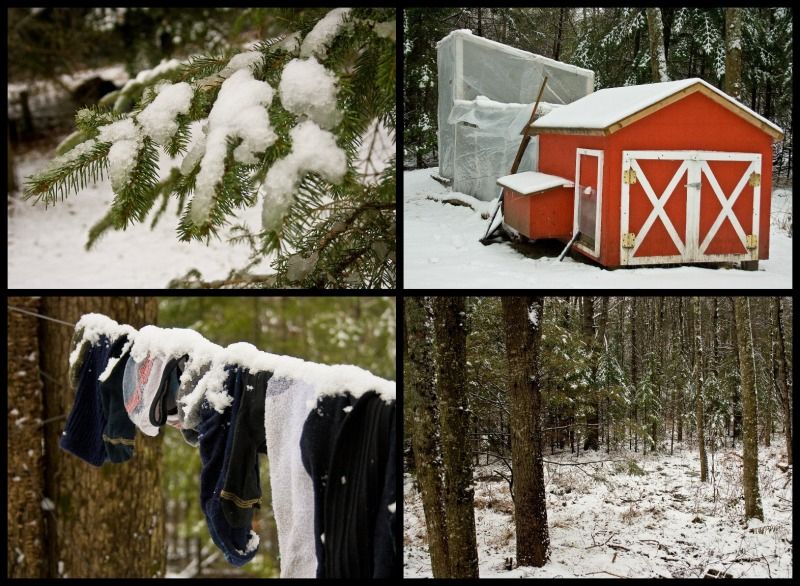 Why yes, that
IS
my laundry on the line. ::wink::
Homeschool High School
White Pine downloaded The Three Musketeers (Alexandre Dumas) onto his tablet for Excellence in Literature II's Unit 3 Honors English book. It's pretty handy to have his tablet available for FREE classics when our little library isn't open! He's definitely liking Dumas better than Thoreau! ::wink::
He also finished up a whole unit in Around the World in 180 Days this week. OK, so it was Antarctica, and, really, how much history and culture is there? ::laugh:: But since he only has to complete 2 units per session, White Pine is quite happy to finish 1 unit in 1 week!
Accomplishments
The Three Musketeers, Predicates, Subjects and Appositives, Algebra (STUFF WITH LOTS OF LETTERS THAT REPRESENT NUMBERS ::laugh::), Photosynthesis (Biology), Protein Structure (Biology Coloring), Succession/Population Labs (Testing Variables), Antarctica (Geography)
Homeschool Elementary
Sugar Maple and Balsam Fir learned about seed dispersal and types of fruit this week in Botany. We made a chart for types of dispersal (from paint chip color cards) in our little notebooks. But our BIG CHANGE in Science this week was attending a Mad Science afternoon class. This isn't
THE
Mad Science, but a hands-on group class offered by a former homeschooled student. The Saplings enjoy our first class on buoyancy and pressure and catalysts, and we'll return next week!
I'm still trying to figure out how to make the SOTW activity book work for us, but this session I'm going to try photocopying ONE map to represent the historical time period we're reading about, adding notes, dates and labels from multiple chapters of SOTW. We often don't read just one chapter and filling out SLIGHTLY different maps every few pages bogs us down. This week we reviewed the first 9 chapters (since we haven't done SOTW in 4 weeks), labeling ONE MAP with place names, famous landmarks and historical people and events.
This seems to work MUCH better for us!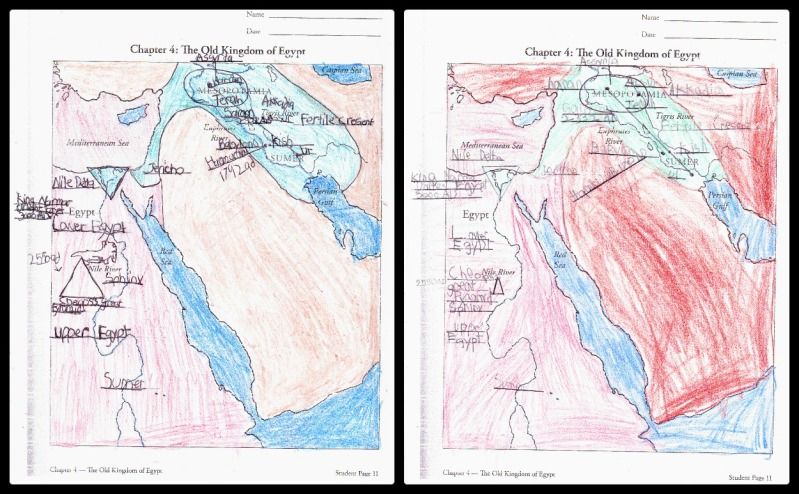 With Balsam Fir's new found interest in writing, I've dropped his English Grammar workbook for guided free writing in a notebook. Sugar Maple thought it was a good idea and wanted to keep a writing notebook too.
And Sugar Maple started back up with Sequential Spelling and began Spelling Connections using Spelling with Samson. Did you hear her exasperated sigh from here? For the rest of this school year, spelling will be a BIG part of her school day.
Sugar Maple's Accomplishments
As Small as an Elephant, Writing (Letter), Spelling/Reading Comprehension with Samson, Cursive, Dance Mat Typing (Level 4), Multiplication/Division Facts, Fractions/%, Graphs, Measurement, 5 Types of Seed Dispersal, Angiosperms, Ancient Egypt, Mesopotamia, Mapwork, Girl Scouts, Cooking (Beef Stew/Biscuits/Pancakes/BLTs), Clarinet/Band
Balsam Fir's Accomplishments
Henry and Mudge and the Tumbling Trip, Sight Words/Spelling with Samson, Handwriting, Telling Time (Hours/Half Hours), Double Digit Addition, Place Value (to Hundreds), Ordinal Numbers, Lesser/Greater Numbers, Tally Marks, 5 Types of Seed Dispersal, Angiosperms, Ancient Egypt, Mesopotamia, Mapwork, Cub Scouts
Favorite Resource
Spelling Connections! I discovered this Grades 1-8 Spelling site through a random Google search. Each grade level includes lists of words grouped by a phonics or English rule and homework sheets to download and print for free. Check it out!
For the Love of Books
Did you read Mary's "10 Days of Reading Aloud" series at Homegrown Learners? Her series
really
inspired me to get back on the "read aloud bandwagon"!
So, new session, new learning opportunity!
And we're starting with picture books. I suppose picture books might seem strange considering Sugar Maple is 10 and Balsam Fir is 7, but there are
PILES
and
PILES
of wonderful, engaging, thought-provoking picture books out there!
This week I pulled from our shelves The Dump Man's Treasures by Lynn Plourde. It's such a delightful story about an old man who recycles books thrown away in his Maine community to enjoy. Books are treasures, not trash, to the dump man. One day he gets injured delivering books from a shopping cart around town. The townspeople discover something very surprising and puzzling about him, but the kids know just what to do to open the world of books to HIM. You'll have to read it to find out! ::wink::
What's Working/Not Working and Helpful Hint
I also used our vacation week to get
Mt Paper Pile
organized into portfolios and plan for the next 7 weeks. And to meet with each of the kids to discuss changes in daily schedules. These meetings have been very beneficial in making our year go smoother! Each of the Saplings get a chance to voice their opinions, good or bad, and to suggest changes. When I can (and yes, we will continue with Math, kiddos ::wink::), I like to include those changes and "pass" ownership over to them.
If it turns out they don't like the changes, well, they're the ones who wanted them! ::wink::
Thanks for visiting Our Side of the Mountain! Did you miss our post on Hug a Chicken Day here or our Take a Hike to Acadia National Park here? As always, hop over the these great blogs and link up your blog! We hope to see you next week!