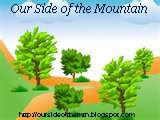 In My Life This Week
How can this be?!
Our last week of summer vacation is almost over! It's been fun, but
B-U-S-Y
! Yet not so busy that I missed the first signs of Autumn! The cooler evenings, showers of dry pine needles falling around the chicken coop, and that one broadleaf out back with red leaves have announced Fall's arrival. Soon we'll be sporting jackets and actually wearing sneakers again.
Another season finishes with the hope of an exciting, wonderful school year ahead!
Red Leaf Found By the Garden
Red and Yellow Leaf Stuck in the Elderberry
In Our Homeschool This Week
Weather! On Friday we started preparing for Hurricane Irene. Hurricanes of
ANY
strength aren't a common weather phenomenon here and add a little excitement to our weather watching. Irene left behind lots of tree branches scattered around the yard and 34 hours of no electricity.
The kids were AWESOME during the power wattage! Very go-with-the-flow! Me? Not so much so! Sometimes I learn the best things FROM MY KIDS; this time a lesson about positive attitude and patience!
Clouds ROLLED in Saturday Afternoon
Totally GRAY on Sunday
Crack! Tree Branch Snapped, Resting on Garage and Power Lines
Another Angle of Cracked Tree Branch
S and C Ready to Face the Storm
C and S found a
BEAUTIFUL
White Admiral butterfly on the road while biking. With a damaged wing, it's unable to fly. We
researched on-line
and created a butterfly habitat. Butterfly lived for 3 days. The kids
LOVED
watching its proboscis!
C's flower garden continues to sprout BEAUTIFUL blooms! I think her Glads are a little confused! Aren't they spring and early summer flowers? LOL
Her First PINK Glad
C and J finished up their 4H Outdoor Recreation/Education club posters for the agricultural fair in early October. They came out GREAT!
Square Foot Gardening
J has spent an INCREDIBLE about of time doing this:
And we reviewed WonderMaps! from Bright Ideas Press from Timberdoodle. Check out our review by clicking
here
!
Places We Went and People We Saw
S and C, the sons of our "old" neighbors, came over to visit again Saturday afternoon. It's nice seeing them again!
Lunch at Applebee's! (I wish they wouldn't put the calorie count of my favorite SALAD on the menu! Yikes! But S ate most of the chicken and I didn't finish it all. Phew!)
C, S and I went to the PO (where I couldn't mail my package because they still didn't have electricity back), the hardware store (for pine shavings) and the library (for new books).
J's friend C came over Wednesday afternoon to "hang out". They shot A LOT of hoops, biked and watched a movie.
B and C, J and C's friends, came over on Thursday and they went froggin' and biking and built with Legos.
My Favorite Thing This Week Was
Returning to our MOSTLY unplugged-under-scheduled-outside play-few sweets-and-earlier-bedtimes routine! While my family visited we didn't follow what we've called "our detox" of the previous 2 1/2 weeks and within a couple of days the kids' NEGATIVE behavior changes were incredible and QUITE obvious!
What's Working/Not Working For Us
We had a blast playing Uno, Sorry!, Yahtzee, Trivia Pursuit, and Skip-bo by candlelight during our power outage! It was hard to even see the cards or boards, but it was a GREAT way to end our evenings!
Photo(s), Video, Link, or Quote to Share
S hasn't had a hair cut in a few months. The vibration from trimmers bug him. But combing out those curls was poor torture! (Things that seem "every day" for us aren't so for kids (or adults) with SPD.) Out-of-the-blue, DURING Irene's arrival, he asked for a hair cut. I LOVE the curls, but he's cute either way!
No More Curls