In My Life This Week
Clunk! Ssssss! Did you hear that? It's the sound of my tire going flat after running over a rock in the road. Fortunately it happened just 300 feet from the driveway. C and I were just coming back from town with a load of groceries. Phew! Guess who has new tires? Me!

Oh, and since my sinus and ear infection woes didn't go away, I'm on a stronger, longer antibiotic. Let's hope this does the trick!

The high, humid temperatures this week have been hard for me to handle all congested, so we did our swimming after dinner! Not only was the lake less crowded, but the water still felt GREAT!
In Our Homeschool This Week
S and I continue to work on his Hooked on Phonics: Learn to Read program. My goal is still to finish Level 1 this summer, and he has 6 more readers and about 12 pages to go in the worktext. It doesn't sound like much, but it can take him 3-5 days to finish a reader or a few pages of worktext.
He's discovered that he can read words in other places now and is QUITE excited to show me!
We'll review all his readers from the past year when we're done with Level 1. (And perhaps we'll have a new story video to share with you!)
I switched to Spelling Power with C, taking a break from All About Spelling. We're reviewing words and rules in Levels 1-2 to reinforce her learning. I decided to have her copy misspelled words on index cards and tape them to the edge of the TV so while she's "glued to the tube" those words will be there too! LOL She's not a
natural speller
so repeated review is needed. She'll get there though!
2nd Flower from C's Flower Bed
And J just reads, read, reads...with some breaks for the History Channel, friends at the Rec Center and gardening! We're enjoying his peas and beans!
Peas and Beans from the Garden
An Insect on a Cucumber Blossum
Winter Squash is Growing
I pulled out the Learn to Tie Your Shoe box and S worked on tying shoelaces. He needs some more practice, but he's getting it!
Here are the kids' favorite library books this week:
And don't forget to check out my post about our 2011-2012 curriculum! Click here!
Places We're Going and People We're Seeing
Rec Center for Kids Free Lunch, gym games and friends
Multicultural Immersion Workshops at the library
Swimming in the lake
J hung out with friends at an amusement park
My Favorite Things This Week
I ordered the rest of our curriculum for next year! I'm more enthusiastic than the kids and I can't wait for Box Day! (The kids aren't thinking beyond summer! LOL)

And guess what? We found it! Our chicken coop! It's a DIY kit and will hold ALL our hens! Stay tuned for our chicks' "housewarming party"! (No more BARN SMELL in the house!)

Here's a new video of the chicks. Cheeper is 8 1/2 weeks old and the others are 4 1/2. They REALLY enjoy being outside! (You can hear the neighbor's dog barking in the background and her yelling at it! LOL)

Photo, Video, Link, or Quote to Share
I did it! I figured out how to make a blog button. I think! I'm not completely satisfied with it as I'd like something more whimsy with a mountain AND kids, but for my first try I'm happy. Does anyone want to give it a try?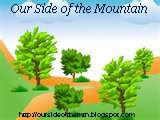 I'm linking up to The Homeschool Mother's Journal, Weird, Unsocialized Homeschoolers, Fun Tuesday Hop, No Ordinary Blog Hop, and Hip Homeschool Hop. Head over to read more homeschool happenings!