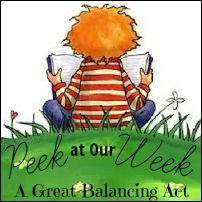 In My Life This Week
What
DID
I do this week? Sometimes the days just all blend together! I've been feeling a bit run down lately. Early mornings and busier days are taking time for me to adjust to. Being a single Mom, I'm doing it all...and getting it done. But I'm
SUPER EXCITED
to be heading to see family this weekend as it's
APPLE PICKING TIME
(and the kids will have plenty to keep them busy while I have some lazy quiet time).
In the Kitchen
We had a craving for Rice Krispy Treats...with M&Ms. (Recipe

here

.) Such an easy treat that the kids went and made them.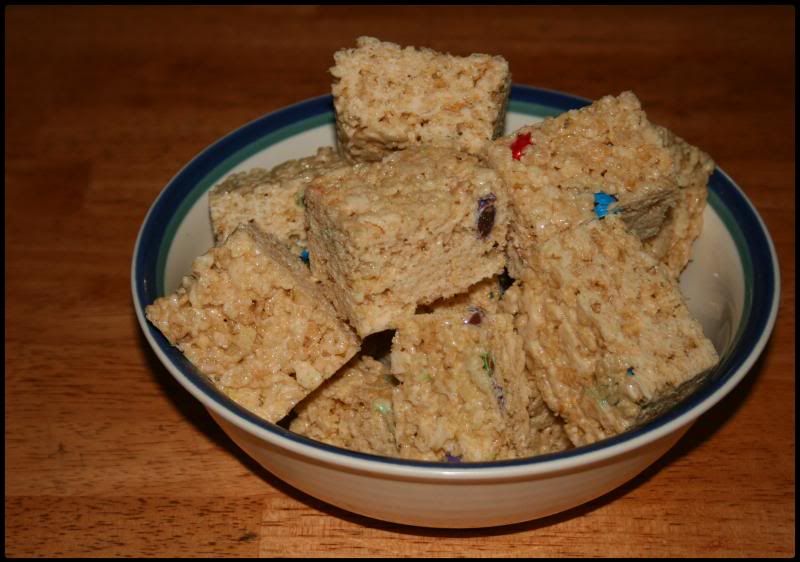 High School Happenings
Jake and 3 other students (and several other groups) walked to a small city park (in the rain) slated to be rezoned into commercial buildings. They interviewed nearby workers and visitors about the rezoning. Jake was in charge of recording responses on his
CELL PHONE
. (Ah, technology!) This coming week they will create a presentation to share with the student body.

I think it's pretty cool that they're learning in the community
, dealing with local issues, and developing "people" and speaking skills.
He's learning strategy skills in Game Theory....with Tic Tac Toe, Rock, Paper, Scissors, and Dots and Boxes. Dots and Boxes is a cool game that you might want to check out

here

. (Just print out a grid of dots from here and grab some pencils.) Anyway, such a hard, hard class, wouldn't you say? :wink:
Jocly.com

has FREE on-line versions of Dots and Boxes if you prefer. I'm kind of "old school" though, and the paper-and-pencil version is so
NOSTALGIC
(and a game can be played anywhere).
Oh, and he built a time pendulum with string and "whatever he could find" in Engineering, tested friction in Physics (along with some long, complicated formulas), created a slide show on his school Chromebook for Social Studies, and designed his own on-line portfolio website in Graphic Design.
I
'm Grateful For
I really wasn't excited to drive Jake to and from his friend's house or the bus stop for a ride into school every weekday.

It's turned out to be a very special time of day where Jake and I can talk, uninterrupted about his goings-on.

These 30 minutes are some of my favorite!
Homeschool Happenings
Sam did it! Sam read his
VERY FIRST
Magic Tree House book from cover-to-cover. *I* have been waiting 2 years for him to read one of these books, watching him struggle (and grumble) through easier, shorter chapter books. Reading is finally clinking for him. Exciting times are ahead!
I spotted a cool "Soar with Reading" Magic Tree House booklet at JetBlue while we were traveling to Alaska last month. Oh, did I share this collage of Alaska?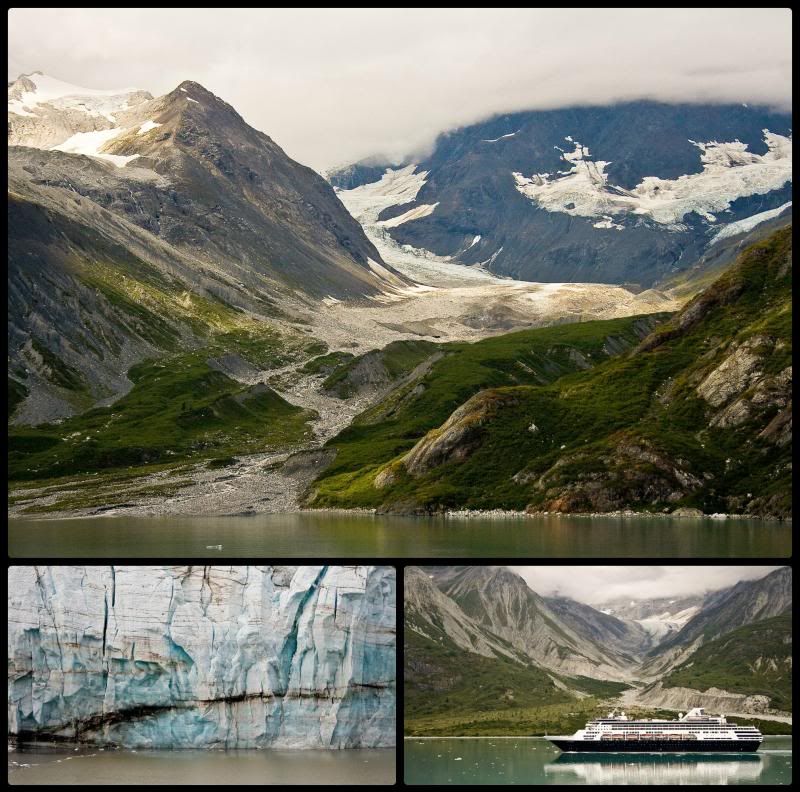 The booklet...It's like a passport! There's stickers at the end that can be added to an area in the front after the books are read. (The MTH website

here

has a neat version too.) Sam was proud to add the first sticker!
We have
MOLD
! We had different types of mold growing in our Life Sci experiment, testing moist bread in either sunlight or darkness with controls. The bread in the dark grew fuzzy green-yellow surface mold over the entire top whereas the bread in the sunlight had a black mold spots that grew through to the other side. The kiddos concluded that molds like moist best, and light conditions encourage growth of specific types of molds.

Unfortunately the new co-op is a no-go. :sigh: The Moms organizing the co-op did not have enough families interested in participating to keep costs affordable. But, on the other hand, I was feeling anxious about yet another crazy day, and feel relieved to knock something off our
BURSTING CALENDAR
. (Oh, have you seen Google Calendar on-line? You can
COLOR-CODE
! You know I'm happy-happy about that!) Cati is also happy that she doesn't have to miss 1 of the 2 concert band practices each week.
And she started our first review over here on our new blog: Girl of American History using the American Girl book series. More on that later though!

We also started learning some Greek word roots using

English From the Roots Up

flashcards. This week it was these roots:
Highlights
Language Arts - Bridge to Terabithia, The Red Pyramid and Meet Addy (C), Dinosaurs Before Dark and Knight at Dawn (S), Grammar - Prepositions, Daily Grams Days 6- ,Spelling Power: Lists 5 - 7 (C); Lists 4-6 (S), Thank You Notes, All About Me (scouts) (S), Greek Word Roots: Para/Photos
Math - Test 3 and Lessons 14- (C), Test 7/8 and Lessons 9A-B (S)
Life Sci - Test 1 (Cells) and Chapter 2 (Cell Processes) - (C); Chapter 4 (Habitats) and Chapter 5 (Grasslands and Deciduous Forests) - (S), Lab: Diffusion
American History - Chapter 3-5: Age of Enlightenment, French and Indian War, John Locke, Ben Franklin, George Washington, Stamp Act, Revolutionary War, Declaration of Independence
I couldn't resist showing the kids the "No More Kings" video when we covered the Stamp Act. Do you remember Schoolhouse Rock growing up? or maybe I'm
REALLY
dating myself? Anyhoo...
Helpful Homeschool Hint
One of my favorite resources are individual white boards and dry erase markers (in different colors). Not only does it save trees, but the kids find them more fun to work with than regular ol' lined paper (for some subjects). I prefer dry erase markers because, being a leftie, I tend to smudge everything I write with the dry erase ones.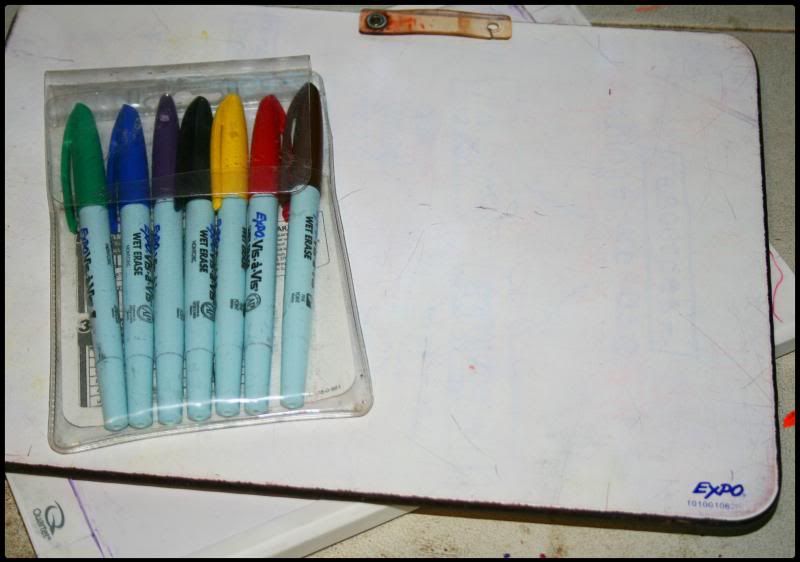 People and Places
✶ Hangin' with D_ (J) ✶ Scouts (J/S) ✶ Jazz and Concert Band (C) ✶
Something to Share
As
ALWAYS
, linking up to these
WONDERFUL
blogs: