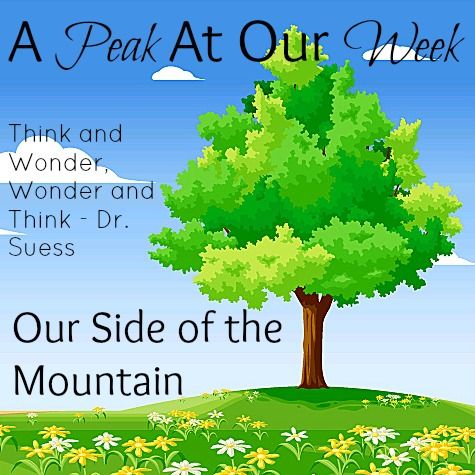 In My Life This Week
Mountain Mama was
HOME ALONE
this week!
White Pine ventured off to Gettysburg and Washington DC with his Boy Scout troop, and Sugar Maple and Balsam Fir visited Grandpa and Nannie Lobster on the island. It took me all of 3 hours to start missing them. :sigh: But I made plans, stayed busy and enjoyed my extended "downtime".
I also spent time outside with the flock, letting them peck at the newly green grass and dig holes under the treehouse. But the "quackers"
WOULD NOT
stay put! I had to keep chasing them back into our yard.
THE KICKER?
They would watch me walk back to our driveway, chatter to each other, then high-tail it back to the brook on the other side of the road! Anyway, here's a photo of our newest hen, Ava, who lays little white eggs.
I believe she is a Wheaten Ameraucana mix. She's a bit disheveled looking as she was a favorite of a roo. :wink: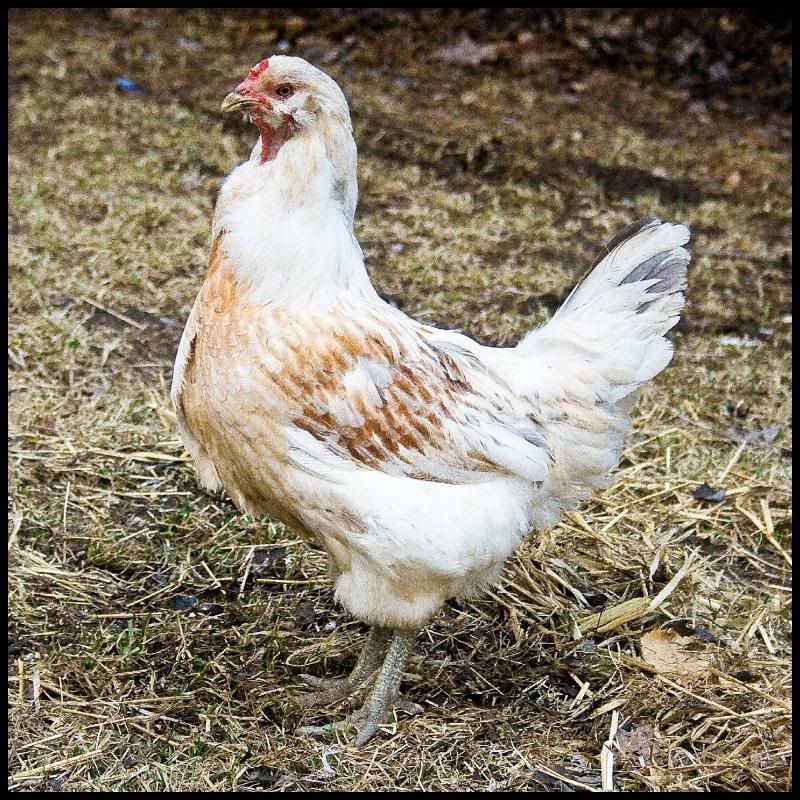 I'm Cooking
Knowing there wouldn't be much cookin' in the kitchen this week, I created some pretty layered Salads-in-a-Jar for dinners.
Have you seen these are Pinterest?
Each Bell jar was filled with 2T Annie's Goddess dressing, 1/3 c sliced carrots, 1/3 c sweet peas, 2 oz prepackaged roasted chicken, 1/4 c dried cranberries, 1/4 c coarsely chopped natural almonds, 1 large diced hard-boiled egg, 1/3 c sliced and peeled cucumber, and 1 cup of shredded Romaine. According to
My Fitness Pal recipe
counter, these were a filling 500 calories with 44g carbs, 25g fat, 27g protein, 15g iron, and 895g sodium. Next time I'm roasting boneless skinless chicken to decrease the sodium, but I'm happy with the other numbers.
I spent time catching up on the saplings portfolios, organizing papers and projects, and planned for our final 7 weeks of Year #9. White Pine will research and write his very first 10 page+ paper, continuing on with Algebra, Biology and World and US History. Sugar Maple and Balsam Fir will continue to work on Math and Story of the World with independent unit studies on Alaska and gardening.
I put together a couple of cute little gardening journals and printed out some state study lapbook mini books from Homeschool Helper Online (free), Currclick (fee) and Primary Graffiti (free). These books will help us to learn about and record our independent studies along with a pile of books from the library and movies from Netflix.
And I printed out FREE mazes from KrazyDad for Balsam Fir. (Jessica Lynette shared the link on her wrap-up last week.) Mazes are a
WONDERFUL
way for kids with visual tracking issues to exercise their eyes. I slipped the pages into a page protector and he'll solve them with wet-erase markers so they can be solved over and over. You should check out the Super Tough Mazes.
WHOA!
My Favorite Thing This Week
But otherwise I watched a lot of "chick flicks" borrowed from the library, "Switched at Birth" (season 2) on Netflix, read
HUNDREDS
of pages of Debbie Macomber swaying in the hammock, and hardly cooked a thing. I went out to breakfast and shopped with a friend. I don't think I've done that in 10 years?
SERIOUSLY!
And continued on with my major household declutter which, after 2 months, is pretty much complete. Phew!